Commercial drones are gaining adoption across several industries in India. With the easing of government regulations, the demand for commercial use of UAVs is set to grow at a much faster rate. As per a report by TechSci Research, the Indian commercial drones market is projected to grow at a double-digit CAGR by 2025. At the helm of this upcoming growth are the drone companies and service providers that will set the growth momentum.
With tremendous growth potential, risks involved are also set to increase proportionally. It is thus imperative for drone companies to manage their risks effectively. A very important aspect of risk management for drone companies is protecting the organization from liability risks involved with drone operations. Despite all preventive measures, drone incidents are likely and they can have a significant impact on the company's earnings. Hence, drone insurance provides much-needed protection for your company.
Before we delve deeper into the reasons, let's understand what drone insurance is and what are the types that you could avail in India.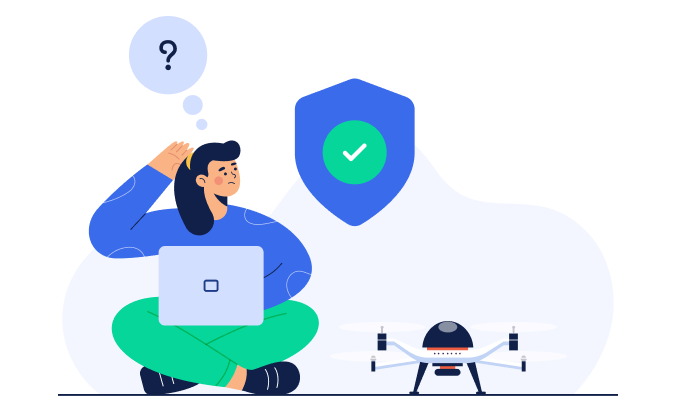 What is drone insurance?
Insurance, as we are aware of, protects us from the financial burden from unforeseen circumstances and accidents. The drone industry has been technologically advancing resulting in a wide range of obscure risks. Drone operators and companies earlier had to turn to traditional insurers whose products were not fit for purpose.
Drone insurance is tailor-made for RPAs. It provides protection against third party liability and damages to the drone while in flight (hull cover).
5 Reasons To Buy Drone Insurance For Your Company:
1. Insurance is mandatory
The Indian government has made it mandatory to have drone insurance. This offers protection for damages caused to third parties as a result of drone accidents and usually includes coverage for physical injury and any property damages. Apart from the government mandate, public protection should top the priority list. Companies require liability insurance before they fly drones in any location. Commercial drone insurance coverage varies depending on your policy and declared limits.
2. BVLOS
The true potential of drones is exhibited when they are operated Beyond Visual Line Of Sight aka 'BVLOS'. Indian drone companies & consortia are innovating and gearing up for BVLOS drone flights. However, BVLOS is prone to increased risks. A drone insurance policy is extremely useful for BVLOS flights to avoid incurring losses or damages to third parties. However, a one size fits all insurance policy is not enough to cover all aspects of BVLOS. As an organization, you can contact TropoGo for a customized BVLOS drone insurance plan based on your use cases.
3. Financial savings from damages to drone bodies
Drones are costly and may crash owing to bad weather or unfavourable conditions. Unfortunately, if a drone crashes and any damage happens to the drone body, an accidental damage insurance policy will save you from the extra payments. These insurance plans also cover add-on cameras, infrared and other sensor payloads attached to the drones. Therefore, having a damage cover plan saves you a lot of money.
4. Fleet coverage:
A corporate having multiple drones can opt for a single customized policy that covers all the drones within the fleet. Bulk policies are generally cheaper as compared to a single drone policy. This saves an enterprise a lot of cost and time spent for documentation.
5. Confidence with clients
Instill confidence among your stakeholders and clients. A high degree of responsible flying is expected from a service provider. It helps to showcase that you prioritize safety in your project deliveries.
Now that you are aware of the reasons for investing in drone insurance, let's look into the types of drone insurance that will help you understand and buy better insurance.
Types of Drone Insurance
Third-Party Liability Insurance:
This insurance covers any damage that happens to a third person or to a property due to a drone crash. Having a third party insurance is mandatory for a drone flier as per the Drone rules 2021.
Accidental Drone Damage Insurance
This policy protects a flier from physical damages to the drone occurring due to a drone crash. In case of a physical damage to the drone body, the insurance policy pays off the repair costs.
Comprehensive Insurance
A comprehensive insurance covers both Third Party Liability and Drone Damages. This is one plan that helps you comply with the law and protects you from financial losses occurring from crashes.
Here's the difference between the third-party and comprehensive insurance cover: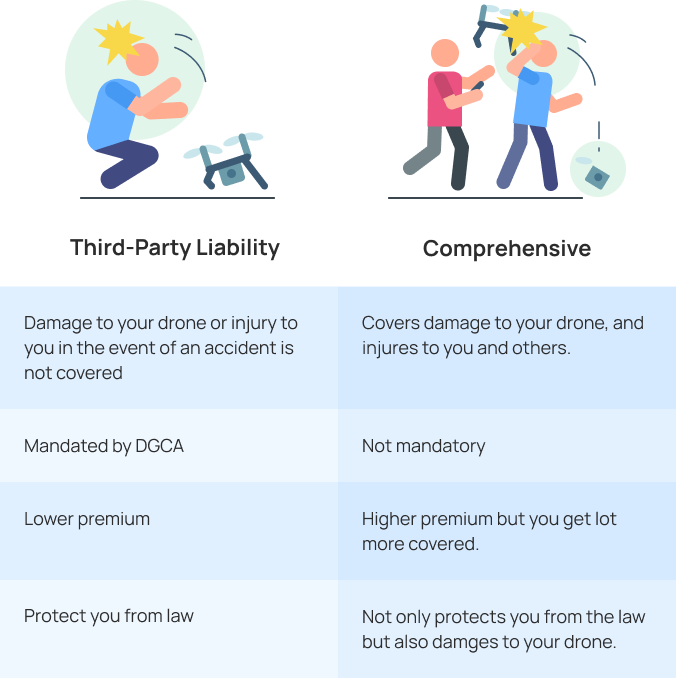 How will drone insurance help the finances of your company?
Generally, when a company buys drones, they buy them in bulk. It yields a substantial cost saving in terms of insurance premiums. Furthermore, despite 20% to 25% of insured drones crashing from the fleet, there is still a cost savings of 70% to 300% based on the fleet size and the age of drones. These figures are based on the lump sum policy figures sold by TropoGo to various customers.
How does enterprise drone insurance differ from commercial drone insurance?
The primary difference between commercial and personal insurance is the premium rate. While personal insurance follows a standard premium, enterprise insurance can have a customized plan based on the fleet size.
What red flags should drone operators look for when choosing an insurance policy?
There are a few things to ensure while purchasing drone insurance. Have a look at those
For Accidental Damage Insurance
Check for drone models that the insurance policy is supporting
Find about the locations where the policy is valid/invalid
Enquire about the simplicity of claims policy
Learn about the age of the drone
Find out if the pay-load cover is available with the policy
For Third-Party Insurance:
The coverage amount
Renewal policies
Time of the coverage
The location that is covered
Drone Insurance - The Indian Context
Flying drones has been legal in India since 2018 December, although the rules have been changing and modifying since then. As per the notification by the Ministry of Civil Aviation, MoCA, dated 12th March 2021, a valid third party insurance policy is mandatory for any uncrewed aircraft except the Nano class. Operating an uncrewed aircraft without valid third-party insurance may attract a penalty of Rs. 10000. Therefore, insurance will ensure that any damage that happens to your drone or another person is covered.
What are the documents required to buy drone insurance in India?
If you are looking for third party insurance, you would need the drone serial number along with the DAN/UIN number and images of the drone you own.
Additionally, in accidental damage insurance, you would need to have an Invoice bill with GST.
Click here to know more.
Conclusion:
Of late, a number of companies use drones for several reasons. The latest one was Dunzo testing drone delivery of medical supplies in Telangana. Logistics giant Blue Dart also recently flagged off testing of drone delivery systems under its new entity, Blue Dart Med-Express Consortium. With all the mighty companies trying to enter the drone industry, the market is soon going to explode.
And with the increase in drone flying, unfortunately, the accidents related to drones could also start rising. Hence, having a comprehensive insurance (Third-Party + Accidental Damage) cover for drones will be extremely useful.
While there is a plethora of information that one can find on the internet, it can get very confusing whether you should invest in insurance or not. However, like mentioned above, there are several benefits why your company should insure the drones they own. Whether they crash or don't, paying a fine of Rs. 10000 or ending up before a judge is not a dream that most companies have.
---