Adoption Via Trials and Hope For Brighter Days
In this post, we look at Beyond Visual Line-of-Sight (BVLOS) drone operations all over the world and India. We begin by defining BVLOS, discussing its advantages before going to region-specific use cases finally.
What is BVLOS?
BVLOS, in the world of drones, refers to the distance outside the normal visible range of the drone pilot. It means that the remote pilot does not use visual reference to the drone in the conduct of the flight.
In BVLOS operations, a remote pilot operates a drone without having to look at it at all times, as opposed to Visual Line of Sight (VLOS) operations which emphasizes that the drone pilot maintains continuous visual contact with the drone.
How beneficial is BVLOS?
BVLOS operations are a crucial use case for drones as they enable commercial activities such as deliveries, pipeline inspection, mapping, and remote surveillance among other things. The main advantage is that they cover a larger area without the need for observers or the pilot's watchful eyes.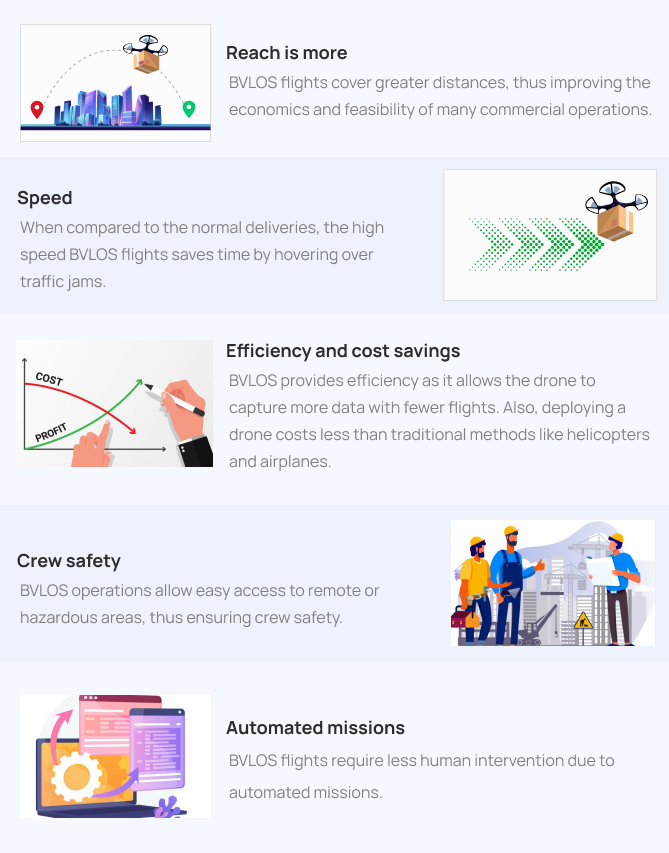 BVLOS Adoption
Given that BVLOS operation allows drones to cover long distances, they can collect more data and improve operational efficiencies as a result. This has huge significance in various industry sectors including security, data, and logistics. Here, we see how.
BVLOS Around the World
CANADA
Automating transmission line inspections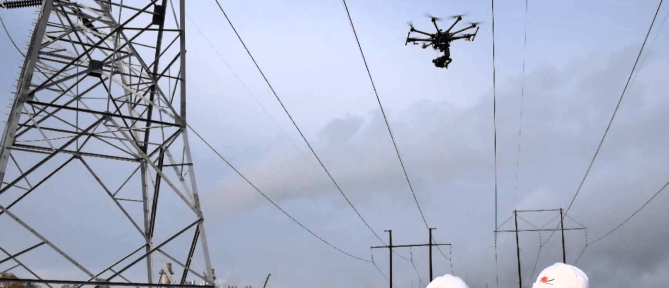 Transmission line inspections for vegetation management are vital in safeguarding grid reliability and resilience. Generally, these inspections are done by helicopters or ground crew members, which are often very costly. They capture data with cameras and identify unhealthy plants and trees that could fall and hit a powerline.
Leveraging BVLOS drones for these inspections can automate this entire expensive process. According to the estimation of the Electric Power Research Institute, the cost reduction is between 55% and 28% compared to helicopter inspection. Besides, automation not only saves money and manpower but also can improve the reliability and resiliency of the transmission grid.
This year, Canada aims to allow BVLOS drone operations in faraway areas without a waiver. For this, the country plans to introduce a 2021 certification that would permit drone pilots to embark on BVLOS flights in isolated areas. This move opens the possibilities of low-cost inspection and frequent opportunities for transmission utilities with large stretches of the line running through forest corridors and open spaces.
In 2019, Transport Canada (TC) published regulations for VLOS operations. These regulations also permit BVLOS operations, but under low-risk conditions with the issuance of a Special Flight Operations Certificate (SFOC). In 2020, TC issued a new Notice of Proposed Amendment (NPA) to further update the Canadian regulations- this time to allow routine BVLOS drone operations in low risk situations. These new changes do not address higher-risk BVLOS operations in populated areas because of safety concerns and risk assessments. However, these high risk BVLOS operations will be part of a different regulatory process later.
UK
BVLOS solution to help data capture for industrial use-cases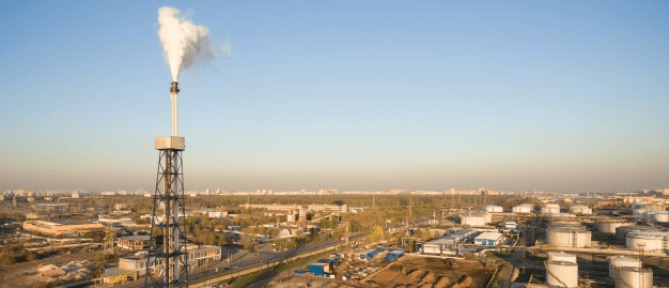 UK's drone start-up sees.ai has recently got permission from the Civil Aviation Authority (CAA) to develop a BVLOS command & control solution to help data capture for industrial use-cases and to trial a concept for routine BVLOS operations. The CAA permission allows the start-up to conduct BVLOS operations at three sites without the requirement to pre-authorize each flight. This removal of limitation opens up for the next phase of growth of the drone industry, during which the capacity of BVLOS to significantly enhance operational efficiency and effectiveness will be considered.
Furthermore, the CAA authorization permits BVLOS flights to operate under 150ft and needs an observer to remain in the visual line of sight initially and communicate with the remote pilot required. By testing the concept for monitoring, maintenance, and inspection purposes, sees.ai aims to demonstrate the safety of its system before extending it to address challenging missions eventually.
The CAA along with many innovators continue to work on providing solutions to enhance the safety of future missions via new technologies like the automatic detect and avoid system. The data gathered from the test flights will then be used to measure the success of the operations and the risk and hazard assessments. As part of the Future Flight Challenge, sees.ai is currently leading a project to enable commercial BVLOS drone services alongside manned aircrafts.
SINGAPORE
Surveillance and inspections made easy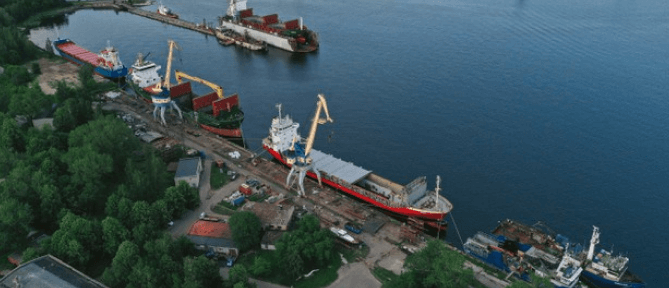 In a first, Singapore's Maritime Drone Estate (MDE), a new testing site for drone technologies aims to usher innovation to maritime applications like remote ship inspections and shore-to-ship deliveries. During the launch of the new site, a drone carried a 3D-printed part to a nearby vessel at an anchorage. So far, 9 companies have conducted trials at the drone estate. Among them, Avetics Global conducted BVLOS trials for aerial surveillance and remote ship inspection.
The MDE's provision of a sandbox regulatory to get clarity over the safety, security and viability of BVLOS operations is part of the Sea Transport Industry Transformation Map to explore new port capabilities via emerging technologies. This will build a strong maritime innovation ecosystem that will help in marking Singapore's position as an international maritime centre.
The SLA plan
A drone that is compliant with the Civil Aviation Authority of Singapore's BVLOS regulations, is now a key part of the inspection regime of the Southern Islands as part of the Singapore Land Authority's (SLA) plan. This action is the result of many previous trials to safeguard the safety and operational efficiency of inspections by BVLOS drones. The videos captured by the drones will be examined by a machine-learning algorithm to identify the potential maintenance and security issues.
According to Mr. Vincent Aw, head of SLA's land development and asset management division, the drone makes work easier and safer for humans, as it covers inaccessible areas including seawalls, forests, and rooftops. Moreover, drone operation provides early detection of maintenance issues, resulting in cost savings of up to 40 percent. After many trials, this BVLOS drone operation was carried out. Encouraged by the success of the first one, plans are in place to deploy a second drone to inspect two island clusters by April 2022. The second drone will be more energy-efficient and it may run on solar power.
KENYA
Operations for BVLOS medical drone deliveries are underway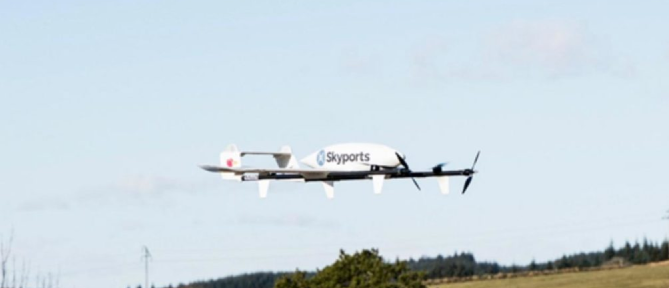 Kenya Airways has joined hands with Skyports, a UK-based advanced air mobility company to realize a common goal - support the expansion plans in drone technology applications.
Duncan Walker, Skyports' chief executive, said that the partnership promises to unlock major opportunities for drone deliveries and inspections in Kenya. This will create time and cost savings for the customers besides contributing to the growth of the technology and aviation ecosystem in the country. Besides, Skyports' BVLOS operational experience put it in a unique position to support Kenya Airways, given that the company has got regulatory approvals to fly UK's first BVLOS medical drone deliveries for the National Health Service. The operations are currently underway though. In the coming months, the partnership aims to explore the possibility and impact of myriad logistical, medical, and inspection use cases alongside Kenya's leading institutions. The target for the launch of The first drone delivery flights is expected to launch in the third and fourth quarters of 2021.
MOZAMBIQUE
Received BVLOS approval to boost drone delivery networks; aims to create agile drone logistics for healthier cities
Mozambique is the third consecutive country in which Swoop Aero, an Australian drone logistics company got BVLOS (long-range) approvals. The company, along with the governments of Malawi, the Democratic Republic of Congo, and Mozambique and several NGO partners is executing scalable drone delivery networks and further growth across the continent. The drone delivery networks are ensuring that access to medical essentials like vaccines reaches all corners. This is beneficial in terms of limiting human exposure in the current Covid era and also increasing access to healthcare in remote areas as fast transportation of medical goods is the need of the hour.
January 2021 witnessed Swoop Aero launch a routine BVLOS drone delivery service in the Democratic Republic of Congo after months of speculative operations. In the first three months, 20,000+ vaccine doses were delivered, allowing many children to be vaccinated. Several immunization products and personal protective equipment were also transported.
INDIA
Immense Scope of Growth
Bangalore's Skye Air Mobility, a drone deliverer is among the few Indian companies to get approval to start BVLOS drone flights as a pilot project and the company is currently gearing up for trials. The company's core competency is drone-based delivery, for which it has been at the forefront of various BVLOS trials. Skye Air is developing healthcare and delivery drones and hopes to incorporate drone delivery in the future to improve food & e-commerce deliveries, healthcare & relief logistics, and urban and defense logistics.
National Insurance, a general insurance company has issued India's First BVLOS Drone Insurance to Asteria Aerospace, a drone manufacturer and operator in Bangalore, via Itus Insurance Brokers utilizing TropoGo platform. The aim is to safeguard the risk of any loss or damage to a third party due to an accident during the test flights.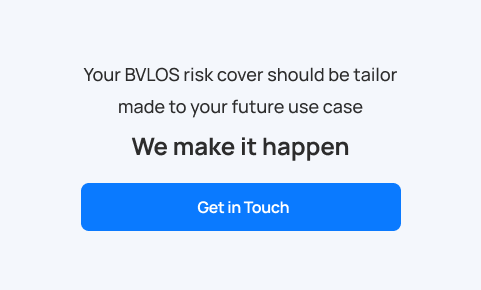 A Flight of Opportunity in Vikarabad, Telangana
Nod for VLOS drone delivery of vaccines;
government pursuing BVLOS exemptions too
According to a recent report by The Hindu, amidst the rising Covid-19 pandemic situation in India, the Ministry of Civil Aviation (MoCA) has given conditional exemption from the Uncrewed Aircraft System Rules, 2021 to the Telangana government for conducting experimental delivery of vaccines using drones within the VLOS range, typically about 500 meters. This exemption is valid for a year or till further orders.
The Telangana government has also sought permission to operate BVLOS drones so that medical essentials can be delivered at longer distances. Once BVLOS permission is granted, the drones can operate up to 9 km away to delivery locations with payloads of about 7 kg. Earlier, the Telangana government signed a collaboration agreement for the Medicine from the Sky project with Apollo Hospital's HealthNet Global and World Economic Forum to conduct a study to examine how drones can be used to improve medical supplies. The project also comprises a thorough study of drone-based deliveries for medical essentials including vaccines, blood, diagnostic specimens, and lifesaving equipment.
The Recent Big Win
Late but happening; the future is arriving
India's Civil Aviation Ministry has granted a conditional exemption to 20 selected consortia from UAS Rules 2021 to conduct BVLOS experimental flights of drones. The consortium includes big names like Dunzo Air Consortium, SpiceJet, Virginia Tech India, Skylark Drones and Swiggy, and 16 other entities. The ministry stated that the conditional exemption will be valid for 1 year or until further orders.
This is a big win for BVLOS operations given that India's drone regulations have been little late on the use of BVLOS flights. But now, it is happening for good, though at an experimental phase. Once this phase is successfully established, drones could be used for other purposes as well, including delivering food, Covid jabs with utmost safety. The sky is the limit, really.
As MoCA said, "The preliminary permission grant is envisioned to assist the supplementary framework development of subsequent UAV rules pertaining to Beyond Visual Line of Sight (BVLOS) drone operations. BVLOS trials will help create a framework for future drone deliveries and other major applications using drones."
The Future – Taking One Step At a Time To Be A Sky Routine
When it comes to a public setup, BVLOS operations cover several components including collision avoidance, weather compliance, route planning. While these extend great help and convenience, people may still question them when it comes to safety and privacy concerns. By arresting the risks to public safety, security, and privacy and welcoming the positives like increasing efficiency, reducing cost, and human intervention, a solid framework is possible for the proper functioning of drones. After all, with time, this emerging technology will only become more refined. At present, without a specific regulatory permission (a certificate/a waiver/any other authorization), long-haul drone flight is not allowed in any region. But, it is coming of age (at a wider scale) and will be considered a routine in the sky at some point. A true partnership of aviation, industrial, and emergency service giants are required to advance the system and integrate it into a wider ecosystem and build an autonomous structure for BVLOS - one step at a time.
---