Uncrewed Aerial Vehicles (UAV) are used extensively today. The Directorate General of Civil Aviation (DGCA) mandates third-party liability insurance for all drone operators. Whether you are operating a drone for commercial purposes, or personal use, flying without insurance is illegal and can lead to severe consequences. Besides, it is always advisable to have insurance that can cover you against accidents or any unforeseen circumstances.
Note: Only Nano drones (weighing less than 250 grams) have a permit exemption, provided they are flown below 50 feet.
Drone Insurance
Drone insurance safeguards your life along with others and helps you to have a safe flying experience. Most drone insurance policies provide third party liability coverage. Operators can choose to add hull coverage or physical damage as well.
Difference between Third Party and Comprehensive Drone Insurance
Currently, drone operators in India have minimum levels of insurance like the Third-Party Liability cover. This cover protects you against liability to others in the event that property is damaged or people are injured while flying your drone. As a policyholder, you can buy additional coverage for personal injury liability, non-owned liability (property damage or bodily injury caused while operating someone else's drone), premises liability and war perils (damage resulting from a malicious act). A comprehensive drone insurance policy covers the drone related risks and ensures public confidence in the insurance standards as the market develops gradually. It includes drone hull cover, third party liability cover, payload cover. This is available for No Permission No takeoff (NPNT) compliant & Non-NPNT compliant drones.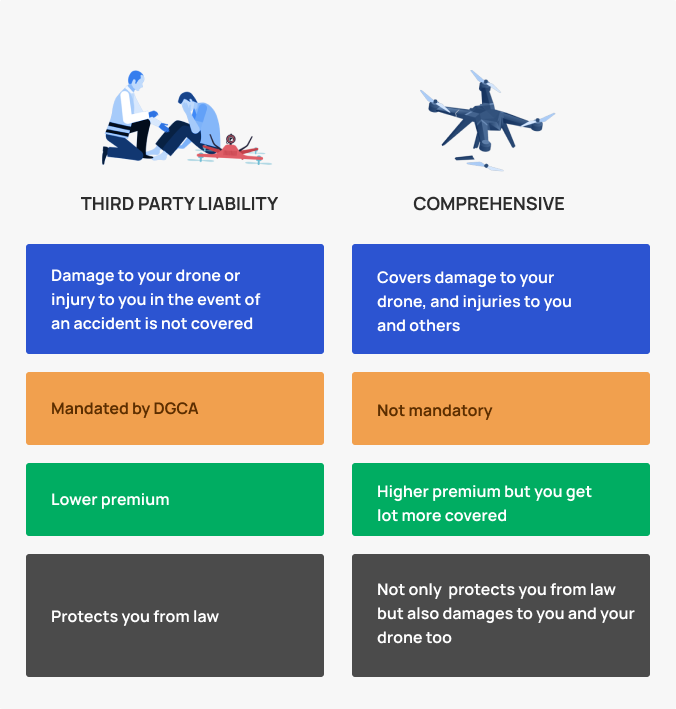 Key Terms To Know Before Getting Drone Insurance
If you are new to the world of drone insurance, here is your chance to familiarize yourself with some key insurance terms before we delve deep into the topic.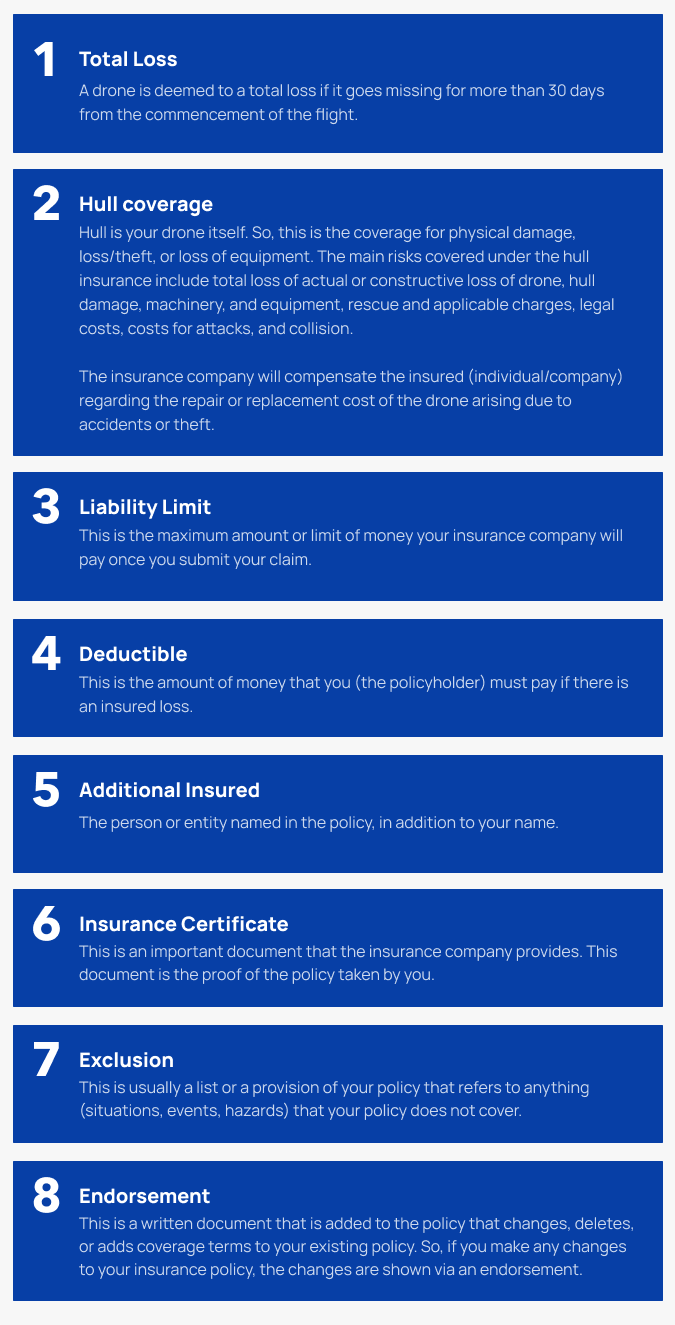 Questions to Address Before Buying Drone Insurance
Why do I need to buy drone insurance at all?
Life is uncertain and accidents cannot be predicted. Drones are gadgets with remote control. Consider these situations - your drone batteries could die mid-air, the drone could have a technical glitch, or the remote control could develop an error. In these circumstances, accidents are inevitable. Your drone could fall in a crowded area or injure people on its way down. It could also land on someone's private property or vehicle. In these situations, you, as the drone operator, would be held responsible for all the damages. You may also be required to provide compensation. And this is where third-party liability drone insurance can protect you.
What should I look for in my insurance?
Good third-party liability insurance must cover you in all the above-mentioned situations, and any other third-party damages. The purpose of insurance is to ensure that you do not need to pay out of your pocket. In case of accidents, third-parties have the right to demand compensation, or even sue you. In such scenarios, your insurance policy must be able to cover you for all expenses involved.
Ask your insurance provider the following questions:
How much is the liability limit?
What kind of costs are covered in the liability limit?
Are there certain industries or areas which they would not cover? Or, What are the policy exclusions?
Would they cover your legal fees, in case of a court proceeding?
What are the terms and conditions of insurance coverage in case of claims?
What information will they require for claim settlement?
Once you are convinced with answers, then go ahead and purchase your insurance cover.
How do I find a reliable third-party drone insurance provider?
Finding a reliable third-party drone insurance provider can feel like a daunting task. Honestly, you need to find an insurance provider who has long-standing credibility in the market.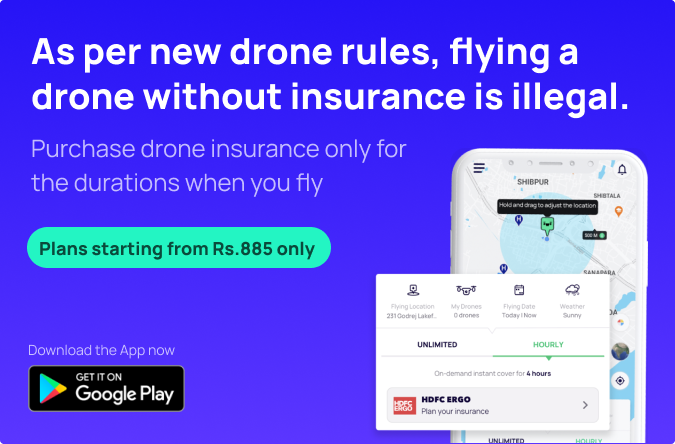 What should be the duration of my insurance?
It is not humanly possible to fly drones at a stretch. Ideally, your insurance should cover you only for the duration that you wish to fly. If you fly for a few hours, look for micro insurance that will give you all the benefits of long-term insurance. If you are a frequent flyer, a monthly plan may be more economical perhaps. You can also buy annual insurance covers depending upon your usage. Thus, it is subjective and depends on a person's or an entity's needs.
What are the types of drone insurance available?
The most common types of drone insurance are liability and hull insurance. Then there is payload insurance that covers your expensive thermal or multispectral camera and other parts. You can also insure your ground station, laptop, and tablets.
What to Expect from Your Drone Insurance Provider
Once you select your third-party liability insurance provider, ask the following questions to make an informed decision, and make sure that you find the best deal.
Cost of Cover
This is the most important question that you will need to ask your insurance provider. Compare a few quotations before making the purchase.
Duration of the cover
Your drone insurance should serve your flying needs. If you fly for a few hours then an annual policy is not required; you can consider hourly coverage instead. But if you are a frequent flyer, a monthly or an annual policy may prove to be cost-effective for you. Ask your insurance provider for the various packages, and choose the one that best suits your needs.
Extent of indemnity
Like any other insurance, a third-party liability drone insurance will also have its own set of do's and don'ts. Find out what all aspects will be covered, and what all is excluded. An accident is unpredictable - it could be a minor scratch, major damage, or a fatal incident. You will be required to provide compensation, nevertheless. Ask your insurance provider the details of the scenarios that they would cover. Some insurance providers may cover injuries and damages, but may not cover legal costs.
Transparency
Understand the applicable taxes on your premium, deductibles, purchase policy, and cancellation policy; there should not be any hidden costs involved. You should never have to pay more than you need to. You must have clarity about the premium amount that you will pay and the cover that you will receive.
Claim settlement
Your insurance provider must be able to tell you all the details of their claim settlement process. These would include the documentation that they would require when you make a claim, and the time they would take to make the settlement. They should also be able to tell you the scenarios when the settlement would be in kind instead of cash (like the replacement of a drone).
Terms and conditions
It is always a good idea to take time and read the fine print. Terms and conditions are lengthy and can be boring sometimes. But it is always good to read them before putting your signature. Chances are you will find more questions in the terms & conditions or disclaimer section than in the actual agreement.
Your insurance provider will expect you to maintain certain guidelines and timelines so that your policy remains valid. Similarly, you must also have certain expectations from your potential insurance provider. Do not purchase insurance only because it is mandatory; instead, purchase insurance because your insurance provider is giving you the best deal, and this is for your good.
Possible consequences of flying drone without insurance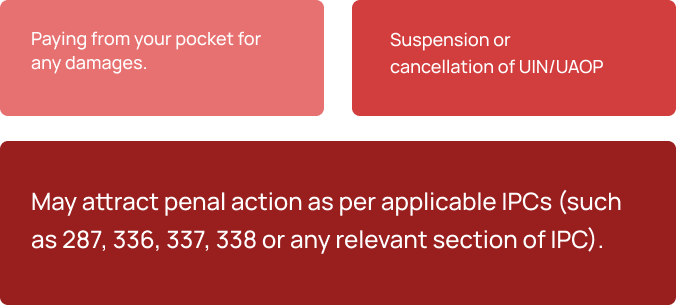 How does a drone policy look like in India?
The Insurance Regulatory and Development Authority of India (IRDAI) has issued a template policy, which has several types of cover that general insurance firms may offer in their product. In a circular sent to insurance companies, IRDAI has mentioned that there is a need to enhance the current insurance availability given the unique characteristics of drones that differentiate them from other aircraft, as well as the remarkable growth in drone usage recently. Here's what you need to know:
According to IRDAI, the insurers must offer policies covering legal liability for death or injury caused by a drone and its repairs.
Further, IRDAI has said that drone insurers must also pay for the repair/replacement of the insured drones. This includes the drone, its payload, and ground handling tools and equipment.
Optional covers related to cyber liability, invasion of privacy, and night flying can also be offered by insurers.
Insurers will also offer accident insurance policies covering drone operators. This cover is only available to the authorized operator for bodily injuries. In case of hospitalization due to an injury, while flying a drone, the insurer will pay the claim.
Note: According to the Digital Sky platform, all drones are restricted to daylight and within the visual line of sight. However, if you need to do a nighttime photoshoot, ensure you do it in well-lit enclosed premises using micro drones up to 200 ft only. Also, ensure your drone is No Permission No Takeoff (NPNT) compliant and has a valid Unique Identification Number. Furthermore, you must inform the local police before flying.
Policy Exclusions
The drone insurance policy will not cover the following:
Instances where the drone is BVLOS because the drone must be in total control and within the line of sight. However, IRDAI's working committee members have proposed that drone operators buy additional cover for BVLOS operations. This will cover liabilities against any accidents.
Any trial runs.
Claims done under the influence of any drugs or alcohol.
Any injuries caused by military engagement-related drone usage.
Any war-related risks.
Any claim, damage, loss, cost, expense or liability of any nature arising from noise, pollution, and electrical and electromagnetic interference.
Premium & cost of drone insurance
Generally, for third-party liability policies covering bodily injuries, the premium ranges between 0.5 percent and 0.75 percent of the sum insured. However, the cost of your drone insurance depends on many factors including the insurance package you need, your experience, and the specifics of your drone operation.
Type of Drone
The cost of insuring the drone depends on what type and size of drones you are using. The other factors include the original purchase price of the drone and its current value.
Type of Work
The cost of insuring your drone also depends on what purpose it is used for. For instance, photography drones yield a lower premium than drones used for relief operations.
Location
A lot depends upon where you wish to use your drone? Is it in an enclosed area or an open space? While the former will mean a lower premium, the latter will mean a relatively higher premium. This is due to the risk involved.
Accident History
If you have a clean record and have no accident record, then you can expect to pay a lower premium.
Things to Consider Before Claim Submission
While submitting a claim, consider the following:
Note: This is indicative and not an exhaustive list. This may vary as per the insurance company's claims procedural policy.
1. Notify the insurance company of any impending prosecution or FIR wherever applicable.
2. Provide intimation of accidents involving the drone to the appropriate authority at DGCA.
3. The drone operator must inform DGCA in the event of drone damage and/or it cannot be returned to its original condition. Following this, the UIN will be cancelled.
4. The operator should not try to repair or dismantle the drone without the permission of the insurer, unless it is needed in the interest of safety.
Innovative Insurance
As the Civil Aviation Requirement 1.0- (Requirements for Operation of Civil Remotely Piloted Aircraft System (RPAS)- Section 17) mandates third party liability drone insurance, companies are focusing on developing unique and innovative solutions.

For example, last year, HDFC Ergo, India's third-largest private sector general insurer tied up with Tropogo, India's first drone marketplace, to provide commercial drone owners and operators third-party liability cover for property damages and physical injuries from drones. In an industry-first initiative, customers can get 'pay as you fly' insurance policy on-demand based on the number of hours they fly. Through TropoGo app, users can directly buy mandatory drone insurance as per their needs - 4 Hours, 1 Day, 1 year.

National Insurance has recently rolled Beyond Visual Line of Sight (BVLOS) drone insurance. This insurance is exclusively designed for the group selected by the DGCA to conduct BVLOS test flights. This cover aims to safeguard the risk of any loss or damage to a third-party due to any accident during the test flights.
Way forward for India
Amber Dubey, Joint Secretary, Ministry of Civil Aviation, envisions India to be the drone hub in future to embody the true spirit of Atma Nirbhar Bharat. For this to happen soon, drone companies should attain more scalability, which can come through a balanced approach towards demand, supply, regulations, and of course drone insurance for a holistic drone ecosystem.
---