Global Warming has been a widespread outcry for quite a while now, and environmentalists are continuously working on measures and techniques that can help to reduce it. Carbon offsetting is one such concept. It allows individuals and large organizations to reduce their carbon footprint by investing in green schemes around the world. However, people harbour differences in opinion when it comes to its implementation. People in favor of the objective believe that carbon offsetting has given output and has made the environment better for people, whereas those against the idea believe that the concept is really good on paper but no significant changes can be observed until individuals and companies change their ways.
Carbon offsetting has some positive attributes. The schemes range from sponsoring maintenance of forests in remote locations to distributing energy-efficient stoves and lightbulbs to people to reduce future carbon footprints. To minimize the cost, time, and effort and maximize the benefits of carbon offsetting, can drones be used by organizations to improve the implementation of the concept? We explore that here.
Why Drones?
The distribution of energy competent products requires transportation rather than using motor vehicles, this can be replaced with drones which will aid in the reduction of traffic, which in the larger picture means a depletion in gas emissions and fuel utilization. Drones can deliver products by covering large distances in a very short time which makes it easier for companies to cut down carbon emissions.
The scope of drone technology can go way beyond air drone deliveries with global companies investing in and experimenting with autonomous cargo shipping. Since shipping is one of the most carbon-neutral forms of transport nowadays, a transition towards a more strategy-driven process could greatly benefit the environment globally.
According to Nature Communications, small drones that carry packages lighter than 0.5kg result in a 50% reduction in greenhouse gas emissions per package delivered compared to diesel trucks in a state like California and 37% less carbon than diesel trucks on average across the whole US. In the case of large drones, which carry packages up to 8.1kg the scenario is quite different. The reduction of emission is 9% in California, compared to diesel trucks and 24%.in the US as a whole. The amount is not very impressive when it comes to large drones however it is still remarkably better than diesel trucks. Drones have a large potential for reduced transport emissions, while ways of reducing carbon emissions for diesel vehicles are quite limited. Companies like Amazon, Walmart, Google, FedEx, and many more have already started developing programs for drone-based last-mile delivery of packages and according to FAA reports, by 2030 the last mile package delivery may result in around 500 million deliveries annually with a fleet of 40,000.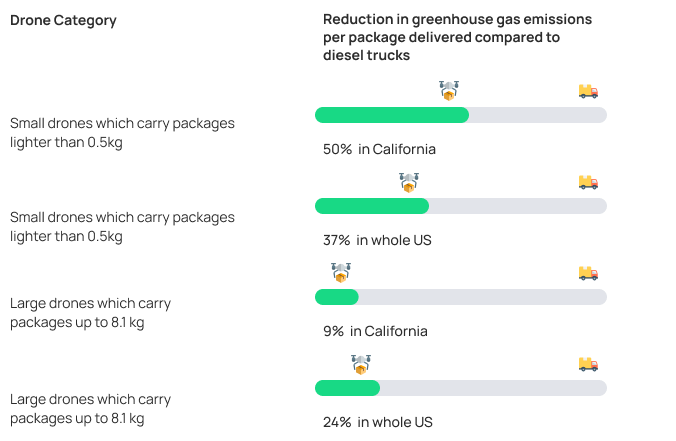 How Companies Are Leveraging Drone for Carbon Offsetting?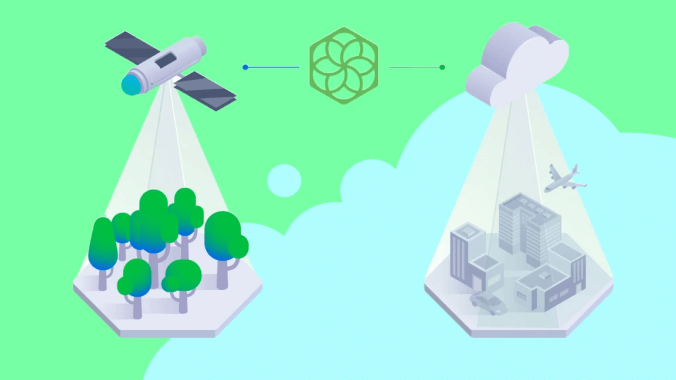 California-based Pachama is already providing drone solutions to companies that have shown interest and are investing in carbon offsetting projects. The company is using machine learning on a combination of satellite, drone, and lidar images to calculate the built of the trees, and then estimate how much carbon those trees store. In the current pilot in the Amazon in Peru, Pachama is working with the nonprofit Camino Verde and scientists to compare its measurements with conventional methods. Pachama is also working with a few tech companies that are buying the offsets to examine the process. Once implemented, Pachama can also help in understanding the progress of the project with drones so that targets can be accomplished. Microsoft has signed on as one of Pachama's early customers as well in this initiative.
Drones are helping to save the lost rainforests by dropping new tree seedlings. Drones from the Oxfordshire-based startup BioCarbon Engineering have been flying at the Worldview International Foundation (WIF). They also gather information about the growth cycle of the seedlings.
Similar information is gathered by Oxford-based startup Dendra systems who are using custom-built drones, ecology, and artificial intelligence to help the biggest natural resources companies in the world to clean up and replant degraded land. Recently they have launched the next generation of its AI-powered 'sky tractors,' with the motive to rehabilitate degraded land. Using AI they can map the equivalent of 400 football pitches a day and identify 120 plant species from the sky, and then deploy bespoke seeding drones. Replacing the traditional methods with drones, Dendra rehabilitated degraded land 11 times faster and at a one-time cost than conventional methods of remediation, which means each third-generation drone can reseed up to 60 hectares per day.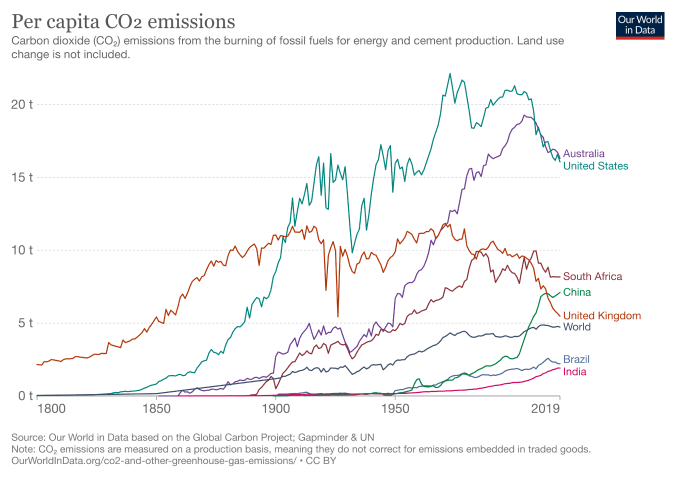 Manifesting Alternatives - What Can India Implement?
India is one of the few countries on track to meet its Paris target, achieving 21% of its pledge to reduce the emissions intensity of GDP by 33-35% by 2030. Perhaps, our country can usher in a new era and incorporate some global learning
Companies can utilize drones for short-haul last mile deliveries of products instead of using trucks or other motor vehicles which would reduce substantial harmful gas emission compared to classical methods of commute.
Companies can utilize drones for short-haul last mile deliveries of products instead of using trucks or other motor vehicles which would reduce substantial harmful gas emission compared to classical methods of commute.
Drones can also be incorporated at numerous levels of the actual production chain where there is a need for monitoring of carbon emissions. With accurate data of the actual levels of greenhouse gases being produced, firms can look for effective alternate methods to reduce the emissions so the need for carbon offsetting decreases.
In medical emergencies, medicines and other essentials are sent via helicopters and airplanes but these can now be replaced by drones. Aid provided will be much faster and with a decreased amount of gas emission.
Even in the case of calamities, sponsored rescue operations, delivery of food and first aid can be achieved through drones. With the help of HD cameras, instead of depending on second-hand information, the firms can understand the actual intensity of the situation and help accordingly and all in a much better time managed cost-effective and energy-efficient manner.
One of the biggest advantages of drones in any project is their capacity to survey and monitor large areas and provide real-time information. This will help organizations to keep a check on the progress of their projects as well.
The Way Forward - Become Carbon Neutral
Through government policies, corporate initiatives, individual efforts, and change in thought processes we can reduce our carbon footprints. By embracing sustainability and minimalism, we not only can declutter our existence but also bring about a positive change around us. It is time we Refuse, Reuse, Reduce, Repurpose and Recycle to carve a mark for ourselves in the sands of time. The future not only holds exciting advancements for drone technology but looks promising for the environment as well.
---