Recovery made easy with drones - hope amidst chaos
Key points:
Drones are taking the Covid-19 induced challenges head-on.
They are sanitizing public spaces, spotting fever, monitoring crowds, and carrying Covid medicines across India.
Promise of a new future
Most parts of India are currently under lockdown to control the spread of the coronavirus pandemic and maintain social distance to reduce the huge burden on the healthcare infrastructure. While police patrol is deployed to ensure strict execution and monitoring, drones have started buddying up with police to monitor public and vehicular movement in many parts of the country.
As of May 25, 2021, the MoHFW website shows 2720716 active coronavirus cases in India. The country has now become the second after the US to cross 25 million. The government has identified 170 Covid-19 hotspots now.
Amidst the tyrannical rule of the Covid-19 pandemic, we explore the significant ways of how drones, as powerful weapons have come forward to help us.
Operational Challenges Faced By Authorities During Covid-19
The Covid-19 induced situation has some inherent challenges:
Lack of situational awareness for authorities (police and rapid action teams) as they cannot reach everywhere every time.
Cases of individuals ignoring the lockdown and going out unnecessarily.
Identification of at-risk individuals (for example, with high body temperature) in open areas.
Identification of essential services so that they can be allowed to move without any hindrance.
Delivery of medicines and essential life saving vaccines to distant places while maintaining the correct supply chain conditions.
How are drones helping?
Drones are playing a key role in the current pandemic situation. The ongoing lockdown is expected to flatten the curve. However, many fear that the post-lockdown phase could spark a resurgence of positive cases, yet again. Our country needs a strong exit strategy, both in thought and in execution. To do this smoothly, drones will remain instrumental, now and always.
Regular surveillance
Checking the ground reality from the sky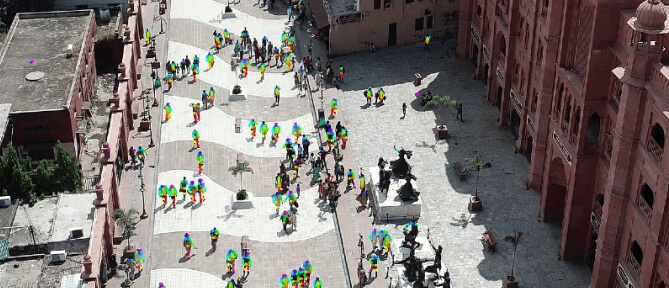 Police and on-ground emergency forces are incessantly guiding people to refrain from unnecessary gathering and the importance of social distancing. Despite their repeated efforts, there are many cases of lockdown violations and people flouting the social distancing norms, thus making their job even harder.
Enter drones and the operational issues – including lack of resources, delayed response, direct contact– are immediately arrested. Given that most parts of the country are in complete lockdown, there are multiple incidents where drones are used as resource multipliers to help the police force track down offenders as it is humanly not possible for them to patrol every street and bylanes. For example, in Chennai, both police and private personnel used drones to catch the lockdown violators recently. Many vehicles that ventured out unnecessarily were seized, 2000+ cases were filed against those not wearing masks, nearly 300 people for not observing social distancing, and many shopkeepers landed themselves in trouble for opening their shops despite restrictions.
Following the 'triple lockdown' in Kerala (in Ernakulam, Thiruvananthapuram, Thrissur, and Malappuram districts), the government has decided to leverage drones and geo-fencing technology to nail lockdown violators. While the former will be used for crowd monitoring, the latter will be used to track people in quarantine. According to Chief Minister Pinarayi Vijayan, a triple lockdown is the most rigorous way to control the spread of Covid-19. A triple lockdown is a three-layered targeted strategy that is used to contain the spread of the virus.
Last year, Mumbai police took the help of Sagar Defence Engineering, a Mumbai-based drone manufacturing company, to deploy drones in Dharavi, one of the world's largest slums, with an estimated 1 million residents. Rather than patrolling the narrow streets and risking themselves getting infected, the police used the drone megaphones to educate the slum dwellers about Covid-19 protocol and urge them to stay indoors. The megaphones on the drones were connected to the cell phones of the police officers to make their announcements and engage with the masses as well.
Medicine Drone Delivery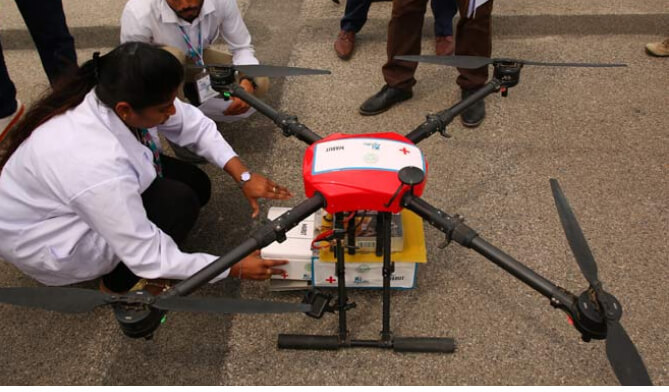 Around the world, drones are used to deliver medical essentials including sanitizers, blood samples, masks, and Personal Protection Equipment (PPE) kits directly to hospitals.
In India's Telangana, drones are expected to take off for Covid-19 vaccine delivery trials from June. They will carry 10,000 vials from a central location to the primary health centres. During the trials, 7 consortiums will deliver emergency medicines, vaccines, and blood from district headquarters to primary health centres within a 15km radius. Each consortium will get 6 days to complete the trial flights and each drone will carry two units of blood and many vaccine vials. This revolutionary step will hopefully solve India's vaccine logistics issue. Though drones cannot replace big vehicles like trucks that carry a large number of medicines and vaccines, they can always be used for emergencies and last-mile delivery so that lives can be saved quickly. Leveraging drone technology could improve the Universal Immunization Program of India as drones are efficient for hilly regions and tribal areas, where stock-outs are experienced often.
Blue Dart formed Blue Dart Med-Express Consortium to revolutionize vaccine delivery and emergency medical supplies to the farthest parts of India using drones. This is part of the 'Medicine from the Sky' project in association with the World Economic Forum, Telangana government, Niti Aayog and Healthnet Global.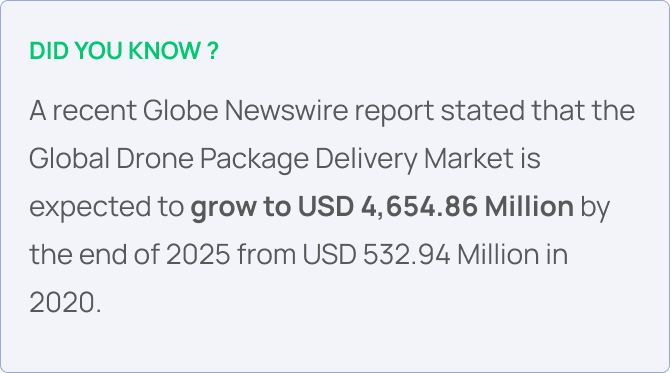 Sanitization & Measuring Body Temperature
Amidst the rising Covid -19 situation, disinfecting drones are being used to sanitize towns, bus stations, city hospitals, and government buildings to prevent the spread of the COVID-19 virus.
Garuda Aerospace, a drone-as-a-service company, used its drones over Bangalore's government hospitals and public buildings to spray anti-Covid disinfectants and sanitize them. Drones replaced the manual sanitization work, which could otherwise have been very risky. Besides, drones can cover large areas in less time.
Meanwhile, in Aurangabad, MP Sushil Kumar Singh has hired a drone to sanitize several slums and skyscrapers in the town. The drone can carry 10 litres of sanitizer on each flight and can cover about 20 km a day.
Hyderabad based Marut drones, that have built the World's First Mosquito Eradication System, have come up with fever spotting drones in the wake of the growing pandemic. Given that fever is the most common symptom of Covid- 19, these drones, with infrared cameras attached to them, are used for random checks of areas to see if there is a concentration of humans that have high temperature. They also help to provide a better understanding of the extent of the virus spread.
The surge in the COVID-19 pandemic has taught us to mitigate its impact with such innovative solutions that help to bring back the lost hope amidst chaos.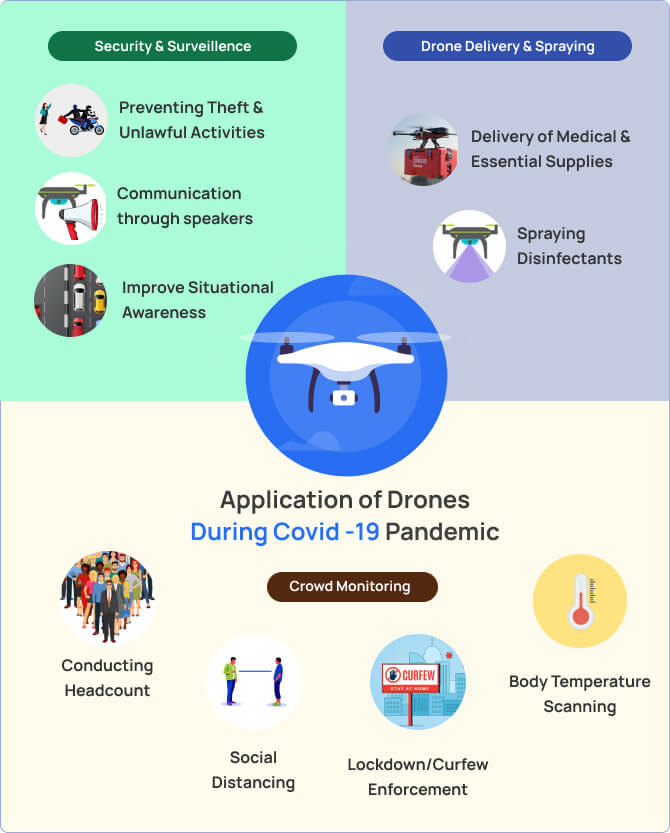 What next?
As the demand for drones continues rapidly in 2021, chances are we will see an entire ecosystem march ahead to innovate and meet the rush of various enterprise needs and address myriad industry needs. Building upon the lessons from the unprecedented year that 2020 was, we may experience a surge of collaboration that will result in varied drone offerings, advanced workflows, seamless integration, and cohesive payloads than ever before. A new future is coming…
---