Agriculture in India accounts for as much as 20% of the Gross Domestic Product (GDP) and almost 54.6% of the workforce if not more. Statistics rarely tell a true tale and even though agriculture plays a crucial role in the social and economic fabric of India, those involved in agriculture are not too keen on its prospects. As of 2021, India is the second-largest food producer in the world and a global leader in the agriculture sector just behind China. In the financial year of 2021, the Gross Value Added by the agriculture and allied sectors is estimated at ₹32.48 lakh crore. Behind the mask of such numbers lie the harrowing faces of farmers who in this day and age still resort to primitive techniques and machinery in the fields. While the consumer gets the carrot, the farmers are on the receiving end of the stick.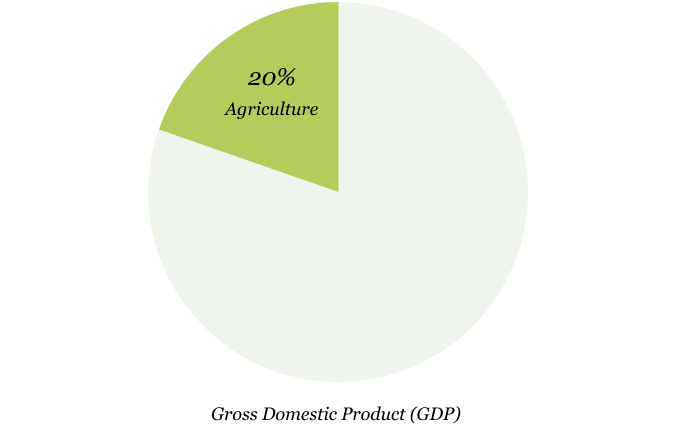 The Indian government released their latest set of Drone rules in August 2021, a lot of regulations have been relaxed albeit with a few restrictions. In a few years drones will be as common a sight as kites in Indian skies. Additionally, the Government of India, has exempted certain entities like Mahindra & Mahindra for agricultural research and precision spraying for a year, Bayer Crop Science, Punjab Agricultural University and PJTSAU for agricultural research and growth. These exemptions are meant to facilitate the adoption of drone technology in India's agricultural sector.
Prime Minister Narendra Modi, in a recent broadcast said that, India is extensively using drones for a host of services and in this context, he referred to Nano Urea sprinkling exercises, going on across states by pesticide major IFFCO. IFFCO has also started an Agricultural Drone Training Program that aims to train the farmers for operating drones in the agriculture field. These efforts by the Government of India and industry, are aimed at empowering farmers by creating innovative agricultural solutions.
Now, let us take a closer look at how drone technology is contributing to the agriculture sector.
Welcome, Doctor Drone!
Fitted with the latest sensors and accurate technology, drones can now be effectively used to analyze not only the field condition but also soil fertility. Normalized difference vegetation index (NDVI) cameras on drones can quickly create accurate maps of a large area at a low cost. With accurate maps, farmers can gain knowledge of the soil and vegetation which enables them to come up with a well-drawn plan to start a new crop cycle.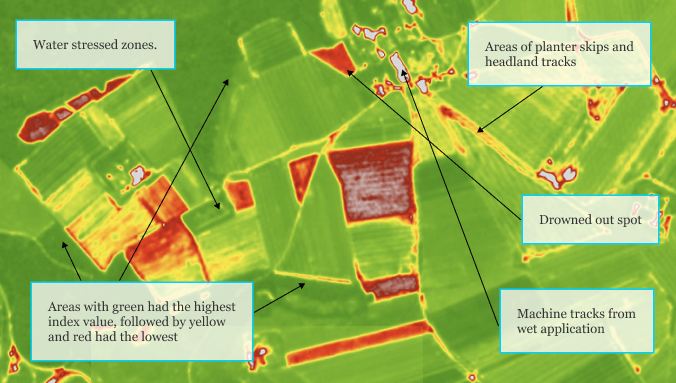 Drones can also be used during seeding to shoot seeds along with nutrients into the soil. Using a drone to plant seeds can cut down planting costs by 85% and increase the number of seeds planted as well. Agriculture in hilly areas can particularly benefit from drones as seeding in hilly areas is a lot difficult and expensive.
How can drones help after seeding?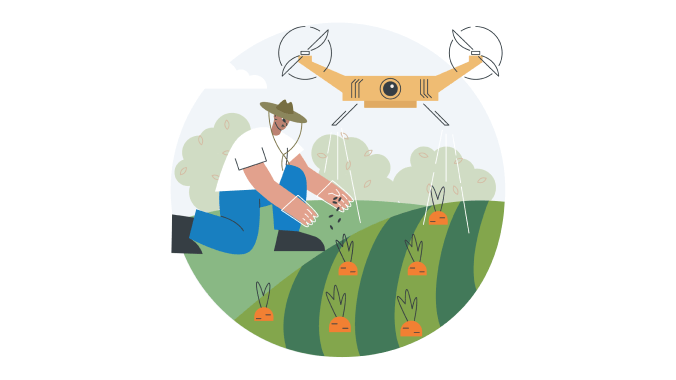 Vast fields and inefficient crop monitoring systems are the two biggest roadblocks preventing the agricultural sector in India from reaching the heights it is capable of. Drones can effectively use distance measuring systems such as lasers and ultrasonic echo to get a proper understanding of the field and the crops growing in it. The versatility in its design lets the drone be used to spray pesticides and fertilizers much more accurately and efficiently than a farmer or a machine generally could. Drones are much faster than traditional machines thereby cutting down on not only the time but also the cost of spraying fields with chemicals. Furthermore, quadcopters do not spray more than required which helps to limit the amount of chemicals seeping into groundwater and polluting it.
Crop monitoring for the win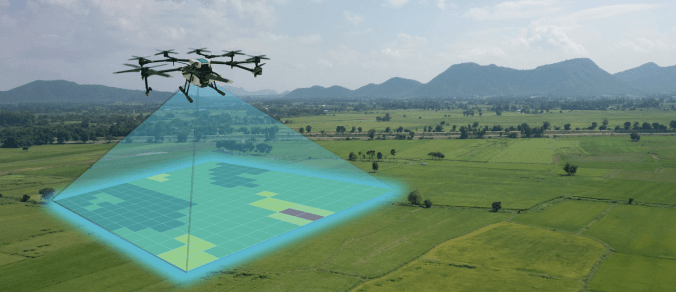 Assessing the health of crops and managing them is a challenge for farmers since they mostly rely on age-old techniques and do not have sufficient knowledge to do otherwise. Drones, however, can assess the health of crops by using infrared radiations and other advanced imaging techniques, with precision. Crop monitoring with drones saves a lot of time apart from being much more accurate than any farmer. With the right knowledge, farmers can take the right actions to improve the health of the crops. Using thermal sensors, drones can also help in proper irrigation and can be used to assess the general condition of large fields of crops so that necessary actions can be taken. It is also easy to identify unhealthy crops using a drone and take timely actions. Overall crop management will be a walk in the park once drones are legally allowed to be used for agricultural purposes.
Health benefits for farmers
Farmers are the soul of any country and are the backbone of society. Therefore, their health matters the most. Due to the spraying of pesticides and other herbicides for a long period, farmers may develop allergic reactions and other respiratory hazards. Apart from the inhalation of pesticides, there are other health concerns that farmers go through like heat stress, organic dust toxic syndrome, skin disorders and continuous exposure to chemical hazards. With the betterment of drone technology, all of these health hazards in agriculture can be prevented.
From a Fiend to a Friend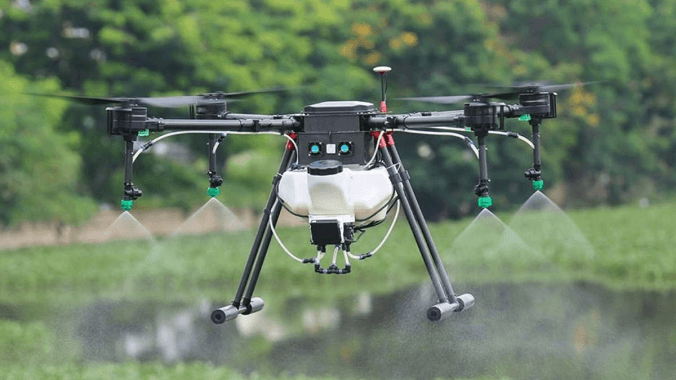 For years, the general perception about drones in India was not a healthy one, especially the residents of sensitive areas, who have long seen drones as just an agent of war. The sight of a drone flying in the sky invokes as much fear as curiosity in the minds of the common audience. This general opinion has much to do with a lack of awareness. It is now a good season that this perception is changing and we have become more accepting towards a technology that is still in its nascent stage but demanding rapidly growing attention in the Indian market.
Indian drone startups like ASAP Agritech, Thanos Technologies, General Aeronautics and several others have been developing and improving drones long before the Ministry of Civil Aviation, India, made civilian quadcopters legal. While some companies came up as far back as 2013, newer startups are emerging every year and the trend is set to continue. What better time than now to ride this wave of swelling drone startups and reach a new zenith in the Indian agriculture sector!
How the Indian government is promoting the use of drones in agriculture?
Drones have taken the Indian agricultural industry by storm. Be it crop surveillance, spraying pesticides, conducting crop health assessments and the likes, there are major advancements going on in this sphere. Making agriculture more sustainable is the underlying objective.
Here are some of the contributions of the different Indian states in adopting drone technology in agriculture:
Karnataka - Pesticide spraying with Drones
During the pandemic, agriculture was one of those sectors that took a major hit, resulting in lack of maintenance of crops due to labour shortage. However, now several of these issues are being addressed technologically.
The Government of Karnataka, through its Department of Agriculture, will now enable farmers, agriculturalists and students of agricultural universities with modern smart techniques which include the usage of drones for pesticide spraying and precision agriculture.
This means that the farmers can now take care of their crops and spray pesticides without being present there manually, which will eventually reduce the risk of inhaling pesticides.
Tamil Nadu - Pesticide spraying
Tamil Nadu government isn't much behind when it comes to the implementation of drones for pesticide spraying purposes. TNAU conducted a study for understanding the capabilities of drones and conducted a few field trials in Coimbatore, Perambalur, Tiruvannamalai, Salem and other districts as well. According to The Hindu, TNAU said, "the study had revealed that the drone could accomplish in a few hours the task that two labourers required a day to do – spray pesticides or apply fertilizers on a hectare."
These drones could also help in the concentration of pesticide, standardise the speed and volume of the spray and on early application of pesticides could help the farmers save the crops. When the same activity done manually will be heavily dependent on the labourers and consume extra time which would then affect the quality of crops
Kerala - UAVs for spraying biocontrol agents
Kerala Agricultural University (KAU) has initiated its modern rice technology protocol using unmanned aerial vehicles (UAV) in Wayanad district. With the help of UAVs, farmers can control the quality and production of crops over a large area without spending much on manpower. "If a group of farmers under a collective use the technology on a large area of land, it would help save time, effort, and money. Often farmers are forced to skip proper management practices owing to the dearth of trained workers. Now, they can execute all these using modern technology," The Hindu quotes Dr. Thomas.
Are drones ready to take the field?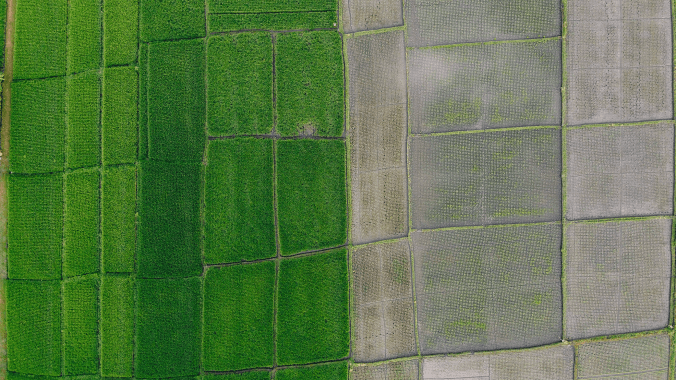 Several drone manufacturers in the market are aiming at helping farmers improve their yield by using simple and cost-effective means. With a vision to give the agricultural sector a much-required boost, these manufacturers are working with the regulatory body to provide a platform for similar companies.
Flying towards a golden future:
The DGCA, India has made flying drones legal and several rules and regulations have been relaxed. The time is ripe to explain these progressive rules and spread awareness as well as mass public education, so that drones can be used to provide the much needed boost to the leading employment sector in India. Using these upcoming technologies and UAVs, the lives of farmers and farming in India can be far less cumbersome and more effective, won't it?
---