The Indian oil & gas industry has a history of more than 100 years, starting in Assam where the first oil deposits were discovered in 1889, and the first gas fields were discovered in the 1960s. Fast forward to the present day, India is the third-largest energy consumer in the world and the government thinks that a gas-based economy is crucial for Atmanirbhar Bharat.
Some Quick Facts About India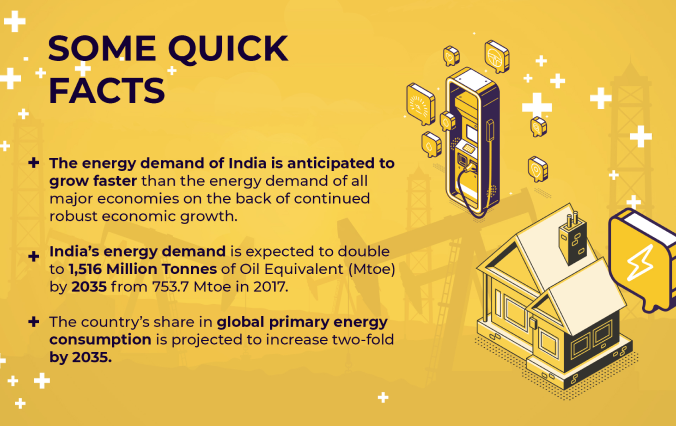 This amount of growth means a higher requirement for constant vigilance at every step of the Indian oil & gas industry process cycle to increase output and reduce spillage, accidents, and fuel theft. Time and efficiency become crucial to the outcome.
Indian Oil & Gas Industry Life Cycle & How Drones Can Help In Each Stage
Drones are shaking up the Indian oil & gas industry for all the right reasons. Here, we will see how this 130+ year-old industry is gearing for the shift.
The oil & gas industry is broadly divided into three sectors - Upstream, Midstream, and Downstream. Upstream is the exploration, production, and extraction of crude oil and gas that will then be transported to refineries (midstream) and made ready for various industrial and residential supplies (downstream).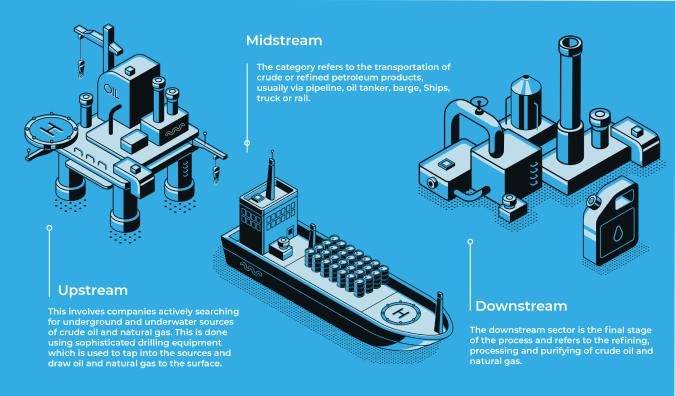 Broadly, the performance of the oil & gas industry is dependent on the following factors:
Accurate exploration of proposed sites.
Complete environment & safety compliance during extraction and transportation.
Effective asset management & assessment during processing and storage.
Overall integrity with surrounding at every stage.
Now, these factors can pose major challenges and demand high investment in terms of:
Accurate geological targeting is mandatory for planning and exploring a well.
Constant monitoring of the oil and gas transportation pipelines that run for thousands of miles.
Manufacturing units pose the risk of the workers' exposure to hazardous chemicals.
Production platforms are often located in remote areas.
Calculating the economic limit that needs to be measured to judge the right time of abandonment.
Accurate data will be required to plan re-entry if required.
Traditionally, all the above steps have been carried out manually. A large amount of manpower and time are invested by the Indian oil and gas industry to ensure minimum loss and sudden shutdowns. Nevertheless, three major concerns remain constant with the manual inspection at every stage:
the risk to human life.
the economic loss incurred during the shutdown
the probability of human error that could amount to irrevocable damages
How are drones helping?
At each stage, drones hold the capacity to provide live awareness for immediate action.
Upstream
This process includes the identification of potential geographical sites, survey mapping, drilling and exploration, and production of crude oil and gas. Drones hold the capacity to turn this, otherwise time-consuming, manual process, into an efficient and accurate one in the following manner:
Provide real-time data for all the steps.
With thermal sensors and cameras to detect sites, drones can identify the best routes of transfer and relevant infrastructure.
During construction, managers can supervise the progress without being present on site.
Designers can monitor if the work is proceeding as per plan and if there is a need for changes.
Drones can assist in predictive maintenance once crude oil production starts.
By gathering vibration data about potential problems, leakage, and corrosion, and relaying them via real-time videos, drones cover the gap that arises between data collation and the time it takes for the data to reach the authorities. With instant information available at hand, the authorities can take necessary actions without losing time, thus, increasing output and productivity.
So, all these cuts down the need for onsite human intervention and reduces life risk or chances of human error. Moreover, these checks and surveys can be completed without the need to shut down operations, saving major costs for the companies.
Midstream
Midstream essentially is the phase where crude oil & gas procured upstream is transferred through pipelines, barges, or oil tankers for the downstream process of refining and storage. Often, challenges come up in the form of long pipelines that may exist over the ground or underwater levels, transport challenges, or excess storage, that require safe storage during treatment and for later transportation as per need. Here, drones can help in the following manner:
Reduce the time, effort, and cost involved in the entire midstream, and increase safety and productivity. As they can cover large distances in a short time, and gather accurate data, they can help avoid unforeseen circumstances.
Drones can help in pipeline inspection and supervision. They can detect early signs of corrosion, and determine the beginnings of leakage from the condition of surrounding foliage, something that can be invisible to the human eye.
Since these pipelines run across state borders, drones can supervise any inter-state violations or illegal attempts, and send instant reports to authorities with detailed data, images, and videos. With drones, the hiring cost of helicopters or airplanes can be cut down as well.
Drones can help in transport management too. Barges, oil trucks or railways, whatever be an oil & gas company's mode of transport, there is a huge distance to be covered. Roadblocks or breakdown of vehicles can lead to delays in the process. Any adverse weather conditions that affect the waterways also need to be avoided. Drones can monitor these and provide detailed reports in advance. Information about landslides and damaged roads can help teams plan alternate routes. Drones can also detect early signs of breakdown and help authorities prepare for service and delays. Even after a breakdown, exact information data can be collected and relayed in real-time to cut down the time required for help to reach the spot.
At treatment plants, drones can detect any damages or leaks that can prevent the escape of hazardous gases and chemicals. With artificial intelligence being plugged to drones, they can also monitor the ongoing work, reducing the need for human proximity to hazardous chemicals.
At the warehouse level, drones can perform an effective stock check by reading the RFID tags so that data can be kept up-to-date, and any shortage can be timely reported.
Downstream
Standing at the end of the cycle, downstream is the bridge between oil & gas companies and the end consumer (B2B, B2C & B2G). It is at this stage that procured crude oil & raw natural gas are refined to create required end products like petrol, jet fuel, heating oil, natural gas, LPG, and other petrochemicals.
As downstream is closest to the supply chain, a large amount of manpower and other resources are spent on making sure that the end product is made in time for delivery and in an environment-friendly manner. Industrial residues also need to be discarded properly so that it does not become hazardous for anyone. Here drones can help in the following manner:
Drones can inspect the inner walls of high towers and storage tanks as they can access difficult-to-reach spaces. They can relay all the information gathered in real-time, thus saving crucial time that is usually lost between data collection and data submission to the authorities.
In downstream, storage and stock maintenance are important. Drones can constantly monitor storage facilities to ensure that the required amount is always available, and no malpractices take place. Simultaneously, they can keep a check on the outgoing stock and provide advanced intimation about depletion and the right time for replenishment to avoid shutdowns.
With thermal cameras, drones can also detect early signs of damage to pipelines and storage facilities that can help avoid shortages or spillage.
Whether it is the right amount of residual waste that is allowed to be discarded into surrounding water bodies or the gaseous residue that is released as a by-product into the air, drones can give accurate calculations to ensure that oil & gas companies do not go overboard.
Why should you consider using drones in the oil & gas industry?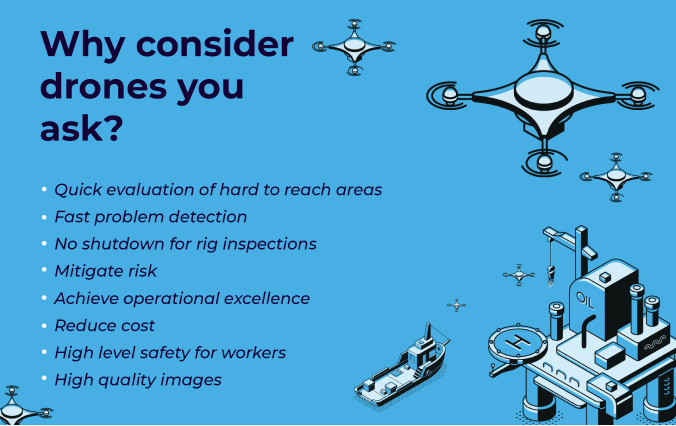 Did you know?
Generally, the key types of drones for oil and gas include multi-rotor, single rotor, hybrid & nano and fixed-wing.
Drone News Corner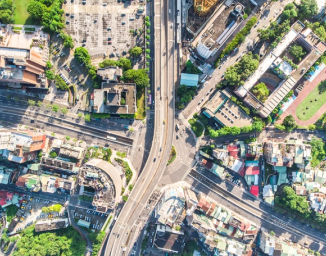 Boon of Technology in Times of Social Distancing
Now, it is almost a year that we are dealing with the Covid-19 pandemic. In this age of social distancing and 'touch me not' phase, India's major energy companies are increasingly coming up with innovative solutions to keep the virus at bay and their crucial operations running incessantly. Bharat Petroleum, for example, started leveraging drone technology to record their workers' behavior to ensure they abide by social-distancing rules.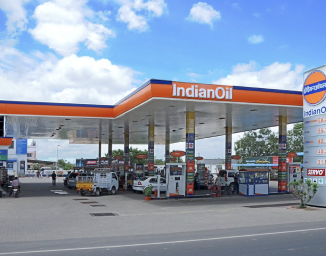 Indian Oil Gets Nod From Aviation Ministry To Use Drones For Aerial Surveillance
The Indian Aviation Ministry has allowed Indian Oil, the leading oil marketing company to use drones for aerial surveillance of its pipeline. According to a senior official, this move is expected to arrest oil theft worth several crores in India, and also avoid the safety risk. This move also opens up a plethora of opportunities for surveillance drones in the oil and natural gas sector in the world's third-largest energy consumer.
With emerging technology, comes emerging threats?
Any innovation has its own pros and cons; the increasing use of drones comes with inherent risks as well. Drone technology is here to stay and though drones aim for perfection, they are not flawless. While it is good to acknowledge the benefits that they offer, it is also a good idea to be aware of the risk associated with the technology, especially in the oil and gas sector. This will help operators and companies to take an informed decision.
Some potential risk factors are:
Drone failure while inspection - Performing a general visual inspection to detect cracks and anomalies on the inside of a huge chimney is an indispensable inspection activity in the oil refinery. Often, drones are used to conduct this activity as they ensure high quality inspection due to their ability to fly closer to the source. However, sudden operational failures may cause drone damage, damage to the refinery plant due to collision, and/or fatal or near fatal accidents if the drone falls upon workers.
Drone misuse and law enforcement-Though drone usage is widespread; however, the law is still developing, considering it is a novel technology. The future of drones requires a proper balance between enabling them for good and a detailed air traffic management system that encompasses manned and uncrewed aircraft.
The Silver Lining
Companies can leverage this technology to the fullest by adhering to rules mandated by the Directorate General of Civil Aviation (DGCA). The Indian government is stepping up regulations in the drone space owing to the risks that come with it. A welcome step is a mandatory insurance that would give a much needed cover to the oil and gas industry where safety is paramount.
The beginning of a new future
According to a recent report, the Government of India is planning to spend around Rs 7.5 lakh crore in creating oil and gas infrastructure over the next five years and the nation is also aiming to reduce the dependency on energy imports. Side by side, the government has also made drone usage safer by opening registrations for drones and drone owners. This will give the government a complete database of drone operators in the country, and help monitor their usage. Currently, any drone operating without a valid Owner Acknowledgement Number (OAN) and Drone Acknowledgement Number (DAN) is considered illegal. Moreover, with the advancements of Artificial Intelligence, we may be looking at drones that would operate with minimum human intervention in the future. Hence, it is safe to say, that a new era is unfolding gradually in front of us and it is up to us to usher in the new beginning.
---