Uncrewed Aerial Vehicles are the newest and also the most exciting wave riding across the deep-tech industry in India. With this lightning-speed growth, along with the changes in drones rules made by the government, India will catapult into a multibillion-dollar industry of drones in the coming decade. This advancement will also ensure that the industry opens up interesting career opportunities to several flying aficionados. If you are one of the drone enthusiasts, who is looking forward to hustling in the drone industry, then this article may come in handy.
Know the flying rules
Before flying any drone, it is important to know the rules and the safety zones. As a newbie, you sometimes may not be aware of the zones that you can or cannot fly. Initially, it may seem a little tedious to find the zones where you can fly without any objection, therefore, using the AirSherpa feature in the TropoGo app may be useful. The rules regarding drone flying are dynamic too, therefore, it is important to be cognizant of them perfectly. Furthermore, these rules will help you know about altitude and zoning restrictions.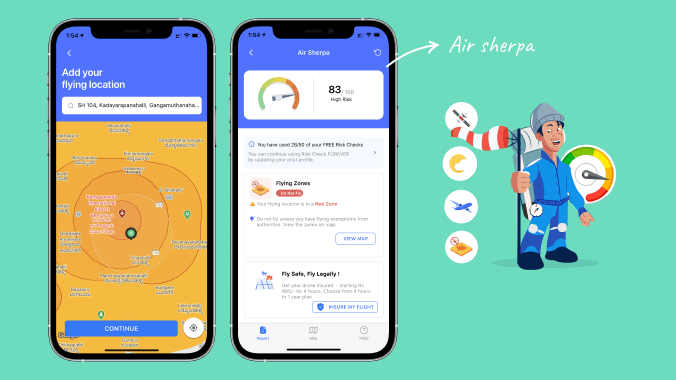 AirSherpa feature in the TropoGo app
Get trained
Indian Institute of Drones, Indian Academy of Drones, Bombay Flying Academy were some of the initial DGCA-approved drone pilot training institutes in the country, after which several institutes followed suit. The substantial part of drone flying starts after getting a Remote Pilot Certificate from a flying school. In India, before you start flying a drone commercially, it is advised to enroll yourself in a training institute and get a drone pilot certification. Also, training for different categories of drones in the flying school itself will assist in the near future. Training prices for basic drone training vary somewhere between INR 25-40k.
Find more information about training schools by clicking here.
Get a drone
Before quoting the clients or establishing a career, the first and foremost essential requirement is a drone. As a beginner, investing in a high-end drone may drain your pocket, therefore, it is better to rent it out. Nevertheless, if you are still looking forward to buying a drone but are confused or spoiled by the plethora of choices available in the market, then going through Skystore will help you with the comparison of various drones.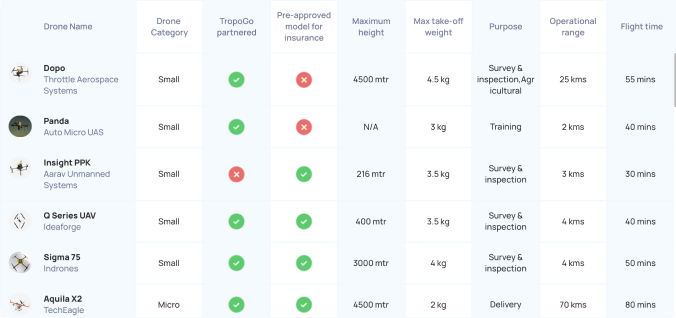 Skystore drone comparison
Find a project
Once you are confident about your skillset, zero in on the types of projects which interest you. Initially, you may not be able to work with the clients of your choice, however, networking with other freelance pilots and joining drone pilots groups may help you. If you would like to stay updated on the latest job openings for drone pilots, downloading the TropoGo app will certainly help.
Additionally, you could join these Facebook groups for more information exchange:
https://www.facebook.com/groups/1119011914815574
https://www.facebook.com/groups/259304664914554

As a beginner, a lot of the clients may try to underpay in exchange for a learning experience. However, the most important tip from experts in the drone industry is to never do it for free. On the assumption that initial projects may come from acquaintances, chances are the compensation offered will be less.
Therefore, analyzing the factors pre and post drone flying, such as the terrain around, the surrounding audience, or the production skills that you possess, will help you quote the right amount. It is always beneficial to note down the efforts and difficulties faced during pre and post-flight, it can be the base point for your future negotiations.
To get more clients as a freelancer, it is important to have a strong portfolio and more experience as a drone flyer to instill confidence, and the LogBook feature in TropoGo app helps you do the same. You can maintain the log of flights that will include locations, time, and hours of flying, therefore, the more successful flights you have, the more confident you will be.
Tips For Newbie Pilots

1. Own your craft:
One of the finest tips from the experts in the industry is to become better at what you are doing. The better you get and more experiences you have, the number of projects will shoot up.

2. Maintaining a logbook:
A logbook will authenticate, record, maintain and share your flights, digitally with anyone. DGCA requires all trainees to record their drone flight logs containing important info such as location, type of flight, duration of flight, trainer etc. in a specified format.

3. Level of difficulty:
Even before taking up a project, understanding the criticalness, the permissions required and the amount of post-production work will help you estimate your compensation better.
Besides, looking out for more opportunities in the same field whether as a drone trainer, or drone software developer will enhance your growth in the right direction.
Conclusion
Several enterprises in India are working right now on drone technology for delivering food, medicines, and vaccinations. Other industries like agriculture, military and, media entertainment have already adopted drones for various purposes. This only indicates the growth and requirement of skilled-drone pilots to carry out these operations. However, to become a drone pilot, you have to get your Remote Pilot Certificate from any of the certified training schools authorized by DGCA.
A major role is played by the government when it comes to the future of drone enthusiasts. The drone industry is going to peak soon and will provide several opportunities for the youth, however, the government should be proactive to make all the amendments to help the youth procure more jobs in various sectors. If that is done, and vital services are provided, then half the battle is won when it comes to becoming world number one in the drone ecosystem.
---