Is drone delivery a dream? The simple answer is NO. Dreams have now become a reality. The adoption of drones is growing significantly and permeating almost every industry.
Generally, drones set off within the visual line of sight (VLOS). However, the drone industry is well-versed with ''BVLOS- Beyond Visual Line of Sight" operations. In BVLOS operations, drones or Uncrewed Aerial Vehicles (UAVs) operate outside the visual range of the drone pilot. Unlike VLOS operations, which require drone applications to take off within a certain distance of the pilot or operator, BVLOS operations allow easy access to remote areas with minimal human participation.
As per the orders published on May 4, 2021, the Ministry of Civil Aviation granted conditional exemptions to certain entities to conduct BVLOS operations which will act as groundwork for drone deliveries down the line. And here we are! Drone delivery is practically happening.
Drone Delivery : Recent Wins
Medical Drone Delivery Including Night Flying in Bengaluru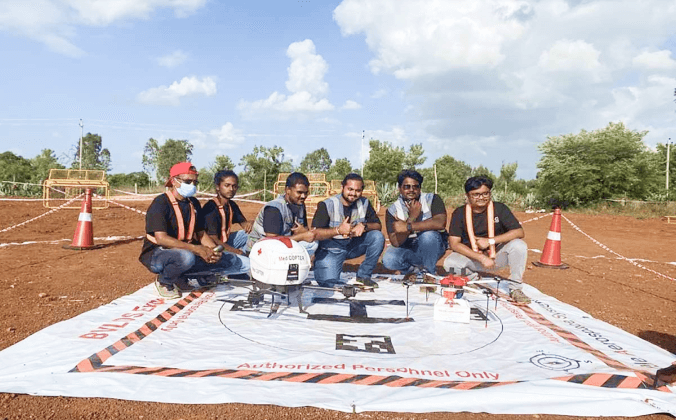 Image source: https://www.thenewsminute.com/article/indias-first-medical-drone-delivery-starts-trial-karnataka-151019
India's first official BVLOS medical drone delivery experiment including night flying was successfully executed in Taluk Gauribidanur, Bengaluru. During the trial, Throttle Aerospace Systems (TAS) deployed two drone models, the Medcopter X4 and Medcopter X8, as well as its on-demand delivery software- RANDINT.
The key stakeholders under the project included- Throttle Aerospace Systems, and B2B E-Commerce firm, Udaan.
Narayana Health worked with the consortium to supply pharmaceuticals for the drone delivery testing. The collaboration's major goal was to gain an understanding of the obstacles and opportunities that will emerge when medications are employed for transportation.
Involi-Swiss and Honeywell Aerospace were also a part of the consortium for providing uncrewed traffic management systems and safety expertise, respectively.
"The outcome and the learning from the night flying will pave a new path on drone delivery readiness for healthcare emergency and e-commerce segments" said the Consortium.
Medicine Delivery In Thiruvalluvar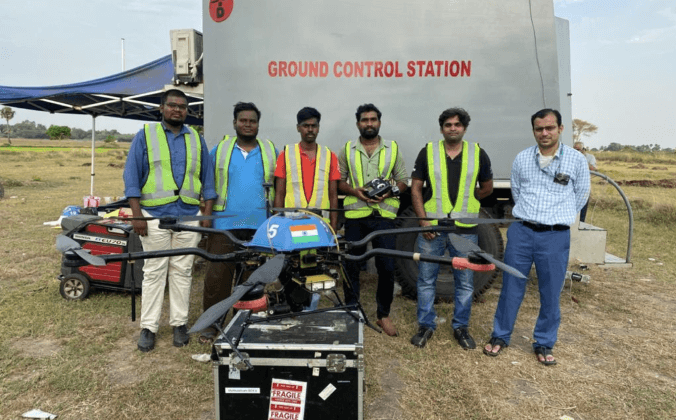 Dhaksha Unmanned Systems (DUMS) piloted the deliveries of medicines in Thiruvalluvar outside Chennai. This BVLOS operation led by Dhaksha Consortium also included ANRA Technologies and Honeywell.
"We'll be doing various activities such as mapping of the area and material movements over a short distance over a span of 20-30 days. In the future, we want to use this technology mainly for medicine movements," said Ramanathan N, CEO, DUMS.
"Medicine From The Sky" kicks-off In Hyderabad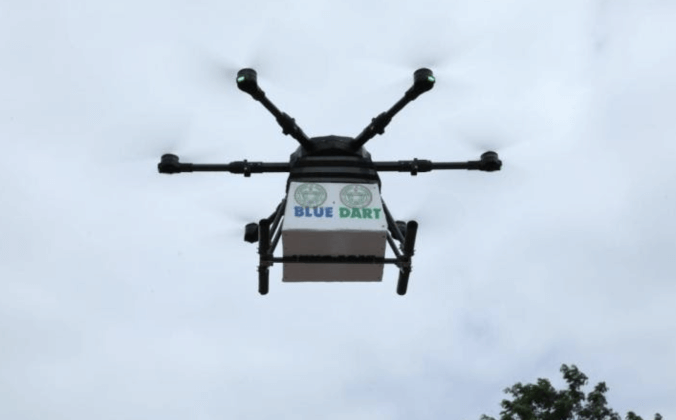 Image source: https://www.indiatoday.in/india-today-insight/story/how-telangana-s-drone-experiment-could-drive-health-care-in-india-1853232-2021-09-15
Medicine from the Sky project kicked off in Telangana with the aim to deliver life-saving drugs and vaccines to far-flung locations. For the purpose of this project, the Telangana government partnered with the World Economic Forum, HealthNet Global (Apollo Hospitals Group) and NITI Aayog.
Blue Dart Med Express Consortium (Blue Dart and Skye Air), Hepicopter Consortium (Marut Drones), and CurisFly Consortium (Tech Eagle Innovations) are three of the consortiums that have deployed their drones for BVLOS medicine drone delivery.
"Drones are a frontier technology that can be used to access the otherwise inaccessible areas, and thus allow equitable access to basic services like healthcare for even the farthest and remotest of areas" said Civil Aviation minister Jyotiraditya Scindia.
Vaccine Delivery Under i-DRONE In Manipur
Image source: https://www.who.int/india/news/feature-stories/detail/india-deploys-drones-to-deliver-covid-19-vaccines
The ground-breaking move to make healthcare accessible to every corner of the country took shape in Manipur where Drone delivery of COVID-19 vaccine delivery began under the Drone Response and Outreach in the North East (i-DRONE), a drone delivery model by the Indian Council of Medical Research (ICMR).
This vaccine delivery started from Bishnupur district of Manipur to Karang Island. For this, ICMR collaborated with Daybest to deploy drones for the trial. Also, the Uncrewed aerial vehicle (UAV) covered an aerial distance of 31km in just 15 minutes, a distance that would normally take 3 to 4 hours.
"We can use drones to deliver life-saving medicines and collect blood samples. This technology can also be used in critical situations. It may prove a game changer in addressing the challenges in healthcare delivery, particularly in health supplies in difficult areas,"Said Health & Family Welfare minister Mansukh Mandaviya.
Medicine Delivery Via Hybrid e-VTOL Drone in Meghalaya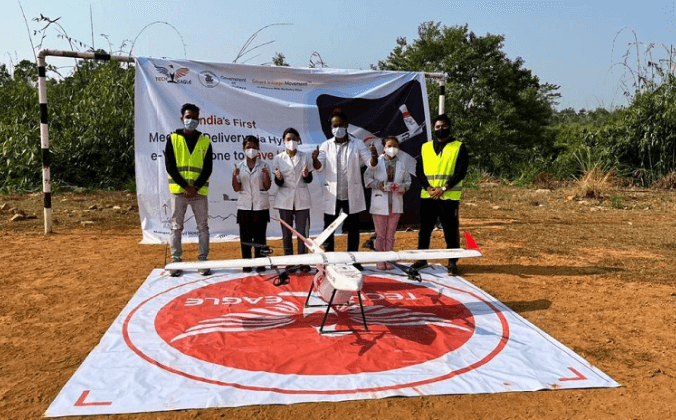 Image source: https://shillongtoday.com/medicines-delivered-through-drone-in-meghalaya/
In Meghalaya, the delivery of medicines from Nongstoin Civil Hospital to Maweit PHC (Primary Health Center) via drones was successfully administered. Tech Eagle, Smart Village Movement in collaboration with the State Health department were the key stakeholders under this project. The deliveries were made over a distance of 25 kilometres in less than 25 minutes using the Hybrid e-VTOL (Virtual take-off and landing) Drone AquilaX2.
"Here the technology has been used for a very good cause. We look forward to using the technology in the long run," said Meghalaya chief minister Conrad K Sangma.
Medicine And Food Delivery At IIT-Ropar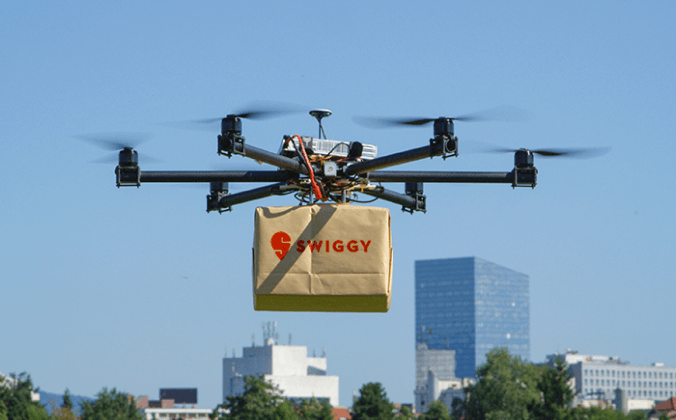 Image source: https://www.theindiantalks.com/business/swiggy-drone-delivery-in-india/41557/
A 100-hour drone delivery breakthrough was achieved in delivery of food and medicines in India via BVLOS operations. ANRA technologies joined hands with food unicorn Swiggy for conducting 352 drone trials which covered 1,100 kilometres of "incident free operations". This experiment was implemented at IIT Ropar's campus in Punjab and Etah district of Uttar Pradesh.
As approved by the MOCA, ANRA led two consortia as part of this far-reaching project. One consortium focused on food delivery which consisted of ANRA, in coalition with Swiggy, Indian Institute of Technology, Ropar, and BetterDrones. The second consortium's focal point was on medical deliveries and consisted of ANRA and Indian Institute of Technology, Ropar.
"Knowing our technology may soon help deliver food and medical packages to underserved populations are what motivates and unifies our team" said Amit Ganjoo, CEO, ANRA.
COVID-19 Vaccines Delivery To Remote Areas In Palghar Village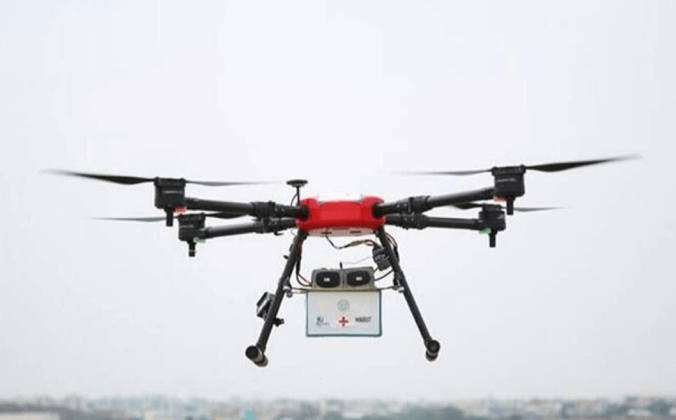 Image source: https://www.financialexpress.com/lifestyle/health/maharashtra-successfully-carries-a-dry-run-of-covid-19-vaccine-delivery-through-drones/2382981/
To provide medical assistance, a drone-based delivery was successfully carried out in Palghar district of Maharashtra. With dense forest, rough terrain and no connectivity at Palghar, this experiment proved to be a paradigm of delivering equitable access to isolated areas. The deliveries were made over a distance of 25kms in just 10 minutes from Rajiv Gandhi Stadium, Jawahar to Primary Health Centre (PHC) at Zap Village of Palghar.
The Key stakeholder under this project included- IIFL Foundation, Blue Infinity, and State Public Health Department.
"This is an essential requirement to reach out to Indians residing in faraway and inaccessible areas, where road access is not possible or very difficult and takes a lot of time, which results in wastage of perishable vaccines and other health supplies." Said Madhu Jain, Director, IIFL.
Drone Delivery: Forthcoming
SpiceJet To Introduce Drones To Build Unique Supply Chain Competence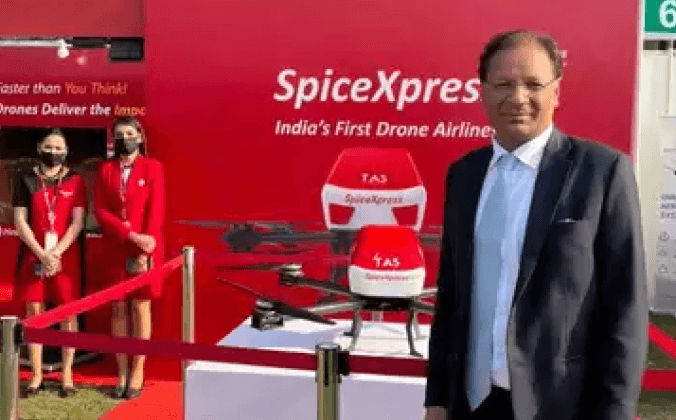 Image source: https://timesofindia.indiatimes.com/business/india-business/spicejet-plans-drone-delivery-service-for-medical-and-essential-supplies-in-remote-areas/articleshow/88228145.cms
SpiceJet is planning to launch a drone delivery service to distribute vaccines, life-saving drugs, and other necessities. Given the approval to conduct experimental BVLOS drone trials, SpiceXpress (SpiceJet's logistics arm) intends to focus on mid-mile drone deliveries at first, before moving on to last-mile delivery in the future.
SpiceXpress will focus on delivering COVID-19 vaccines and other important supplies to remote regions of the country. SpiceJet plans to kick off customised drones with payloads ranging from 0 to 5 Kg, 5 to 10 Kg, and 10 to 25 Kg.
With an objective of over 25,000 deliveries a month, Spicejet extends to cover over 150 locations across India. Not only that, but the airline also intends to develop dedicated drone ports in several locations.
SpiceJet has collaborated with Throttle Aerospace Systems (TAS) for 50 plus tailor-made high-end drones. The consortium also consists of AeoLogic and Involia.
"Testing of drone technology for last-mile connectivity and cost-effective cargo deliveries are a big leap in the air transportation of essential and non-essential supplies in India," said Ajay Singh, Chairman & MD, SpiceJet.
The Way Ahead
Things are going great for India as the new regulations have begun accelerating the supply chain in the drone business sphere. Drones have legal standing, and the liberalized drone laws made the market more receptive and at leisure. With the recent changes in the regulations, the demand for drones is increasing rapidly, and the government push to incentivise drone production has led to positive developments.
Unequivocally, the emergence of COVID-19 has emphasized the significance of drone technology and its applications. While drone technology has been recognized extensively in various spheres like surveillance, monitoring, surveying, mapping, cinematography, etc, the healthcare industry, of late, reaped enormous benefits from drones.
BVLOS operations can prove to be a considerable solution for unlocking the true potential of drone technology. The government is taking initiatives to help the drone ecosystem thrive. By opening the corridors for the drone industry, and enhancing investment towards it, the government positively intends to make BVLOS operations in the near future.
And your next replenishment of the Dolo 650 could arrive at your terraca via drones, sooner than you think.
---