Uncrewed Aerial Vehicles (UAV), also known as drones, have been flying in the Indian sky for quite some time now. In the last few years, consumer interest has enhanced with demand for aerial photography and myriad commercial applications in the B2B sector. As drones can capture and record high-quality aerial shots from a distance, they have become popular amongst hobbyists and business owners alike. While flying your drone is exciting and gives you an adrenaline rush, using it for commercial purposes can take your business to the next level altogether.
In India, drones have a huge scope. They can be used in sectors like agriculture, entertainment, disaster and inventory management, surveillance, and utilities. While the most visible usage of drones today is in event photography and promotional videos, agriculture and other sectors are catching up fast. However, unforeseen circumstances may arise and things may go beyond our control. Liabilities may arise due to accidents; hence, you must obey the drone flying rules. The Ministry of Civil Aviation (MoCA) has released the new drone rules called the Uncrewed Aircraft System (UAS) Rules, 2021. Here are the key highlights and a summary of the new rules.
Drone rules 2021 highlights
Categorisation of UAS - The UAS is categorised as aeroplane, rotorcraft and hybrid, which are further sub-categorised as:

Remotely piloted aircraft system
Model remotely piloted aircraft system
Autonomous uncrewed aircraft system

Classification of UAS - The UAS is classified as nano, micro, small, medium and large based on a simple specification – the weight including its pay load varying from <250grams to 150 kilograms. Also, a nano drone will be classified in the next higher category if it exceeds its performance parameters of flight speed (maximum 15 meters per second), range (limited to 100 meters), and height (maximum attainable height of up to 15 meters).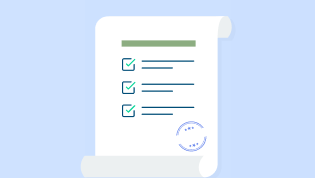 It is mandatory for all importers, manufacturers, traders, owners, and operators of drones to get a formal 'authorization' certificate from the Directorate General of Civil Aviation (DGCA). They can obtain this certificate by paying a fee of INR 10,000.
Penalties ranging between INR 10,000 and INR 1 lakh (for individuals) and (for organisations) a 200, 300 and 400% of the amount specified for individuals, based on the size of the organisation.
No one is allowed to fraudulently lend any licence, certificate, authorisation, permit or approval granted or issued or allow it to be used by any other person.
The Small, Medium and Large category drones must have an emergency recovery system to ensure protection from damage and public injury in case of any unforeseen accidents/situations.
Nano, micro and small UAS operations are limited to within the visual line of sight only.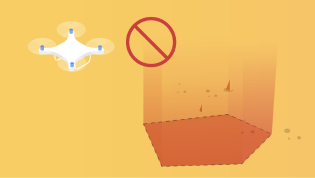 Drones are not allowed to fly in strategic and sensitive locations, including near airports, borders, defence airports, military installations/facilities earmarked as strategic locations by the Ministry of Home Affairs (MHA).
No UAS is allowed to be imported to India unless the authorised importer obtains a certificate of manufacture and airworthiness of the type and class of the drone.
The No Permission – No Takeoff (NPNT) hardware and firmware must be tamper proof. The NPNT policy is adopted for all drones, except for the nano category.
No drones shall be imported to India unless a certificate of manufacture and airworthiness of the specific type and class of uncrewed aircraft system is obtained by the authorised importer.
Drone Regulations in India
Though drone flying is legal in India, yet it is best to adhere to drone laws to have a memorable and safe flying experience. Remember the following regulations: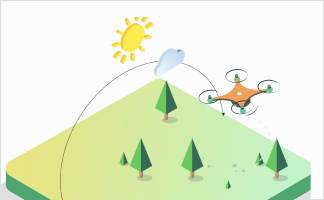 Drones can fly only during the daytime and in good weather conditions.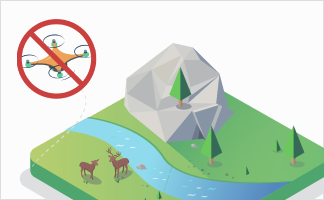 Flying over national parks or wildlife sanctuaries is strictly prohibited.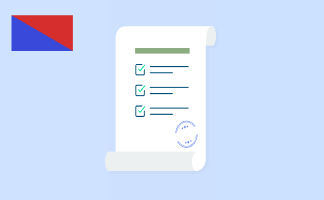 Drone pilots must inform the local police 24 hours before flying.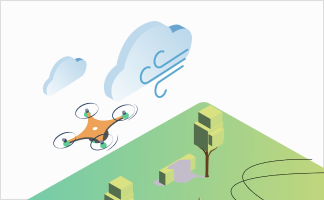 The surface winds during the operation should be less than 10 knots or as specified by the drone manufacturer.
Drones cannot be flown in 'No-Fly Zones' - within 5km of airports, within 5km of Vijay Chowk in Delhi, within 25km from the international border which includes Line of Control (LoC), Line of Actual Control (LAC), and Actual Ground Position Line (AGPL).
Drone pilots can fly only one drone at a time.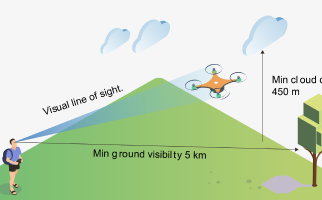 Drones must be flown within the visual line of sight.
A drone pilot must be 18 years of age and have a pilot training certificate from a drone training school approved by the Directorate General of India (DGCA).
Drones cannot fly more than 500 meters into the sea, from the coastline.
All drones must be equipped with the following:
Global Navigation Satellite System (GNSS) receiver(s) for horizontal and vertical position
Autonomous Flight Termination System or Return To Home (RTH) option
Geo-fencing capability
Flashing anti-collision strobe lights
Flight controller
Flight data logging capability
Secondary Surveillance Radar (SSR) transponder (Mode ‗C' or ‗S') or ADS-B OUT equipment (if intended to operate beyond 400 feet/120 m AGL)
Reliable Command and Control Link;
Real-time tracking system
Barometric equipment with capability for remote sub-scale setting
Detect and Avoid (if intended to operate beyond 400 feet/120 m AGL)
Manufacturer Serial Number
Fire resistant identification plate for engraving the UIN
Two-way communication system (if intended to operate beyond 400 feet/120 m AGL)
360 degrees collision avoidance system.
Foreigners cannot fly drones in India. If they must fly, they first need to lease the drone to an Indian citizen, who will acquire the Unique Identification Number (UIN) and Uncrewed Aircraft Operator Permit (UAOP) from DGCA, India's civil aviation regulator. If regulations are violated, drone users will risk cancellations or suspension of the UIN/UAOP.
Authorisation allows a drone owner, operator, manufacturer, trader or organisation to avail UniqueAuthorisation Number (UAN), which is required for subsequent licenses needed for flying a drone legally in India.
Eligibility
An individual must be 18 years of age and an Indian citizen.
A company or a body corporate must be registered and have a business base in India. The Chairman and the majority of directors must be Indian citizens.
A firm or an association of persons or body of individuals or a local authority or any legal entity must have a business base in India.
Note: All the persons specified above must obtain security clearance as specified by the DGCA.
Procedure for Authorisation
Any one seeking an authorisation to be an authorised drone importer, manufacturer, trader, owner or operator, as the case may be, must apply to the DGCA in Form UA-1 along with the required fee and the mandatory documents.
Fees Structure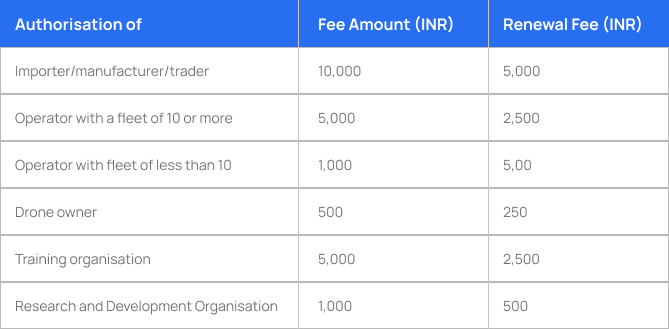 Mandatory Documents
For an individual
Proof of incorporation –a self-attested copy of the certificate of Incorporation of the Company
Director Identification Number (DIN) – Names of the Directors along with their DIN.
Proof of registered address
Proof of business address
For local authority, Central or State Government or agency:
Certificate of the Head of the Department providing details of the organisation, its address and its intent to acquire a drone.
Name, designation and address of authorized signatory.
For any other person:
Proof of registration/incorporation
Name, designation and address of management personnel
Proof of registered/business address.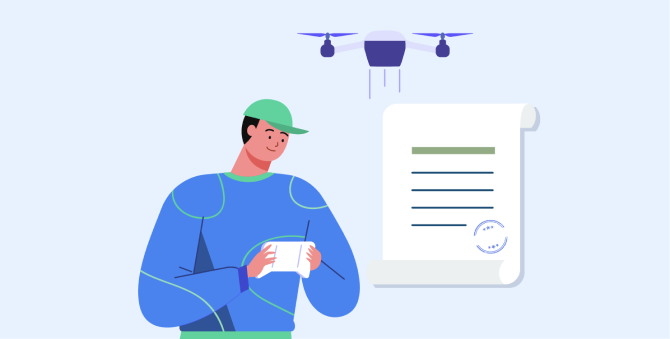 Licenses Needed To Fly Drones in India
As a drone pilot in India, you need mandatory licenses to fly drones. Here are the names of the drone licenses.
UIN
This is a Unique Identification Number that is the same as the number plate of a car and is mandatory for all drones except the Nano category drones. Obtaining an UIN entails your drone registration. The UIN should be etched on a fire-resistant plate on the drone and should be easily accessible and readable during any visual inspection.
UAOP
This is a mandatory Uncrewed Aircraft Operator Permit obtained through the Digital Sky Platform along with the supporting documents and requisite fees at least 7 working days before flying. Drone operators must apply for UAOP after obtaining UIN. A UAOP has a 5-year validity starting from the date of issue. Fresh security clearance from the Ministry of Home Affairs (MHA) is required for the renewal of UAOP.
OAN-DAN
Ownership Acknowledgement Number (OAN) is the number that you as a drone owner get after uploading your information. Using the OAN, you can upload your drone-related information and thereafter, receive a Drone Acknowledgement Number (DAN). Once you voluntarily disclose that you possess a drone, OAN-DAN is issued to you, which in turn, validates your drone operation in India. OAN-DAN is mandatory for non No Permission – No Take-off (NPNT) drones. Ownership of a drone without a valid OAN and DAN is a punishable offense.
Penalties
The new rules have imposed penalties against offences and fraudulent uses and the quantum of punishment varies from Rs. 10K to Rs. 5 Lakhs, depending upon the severity committed by a company or an individual.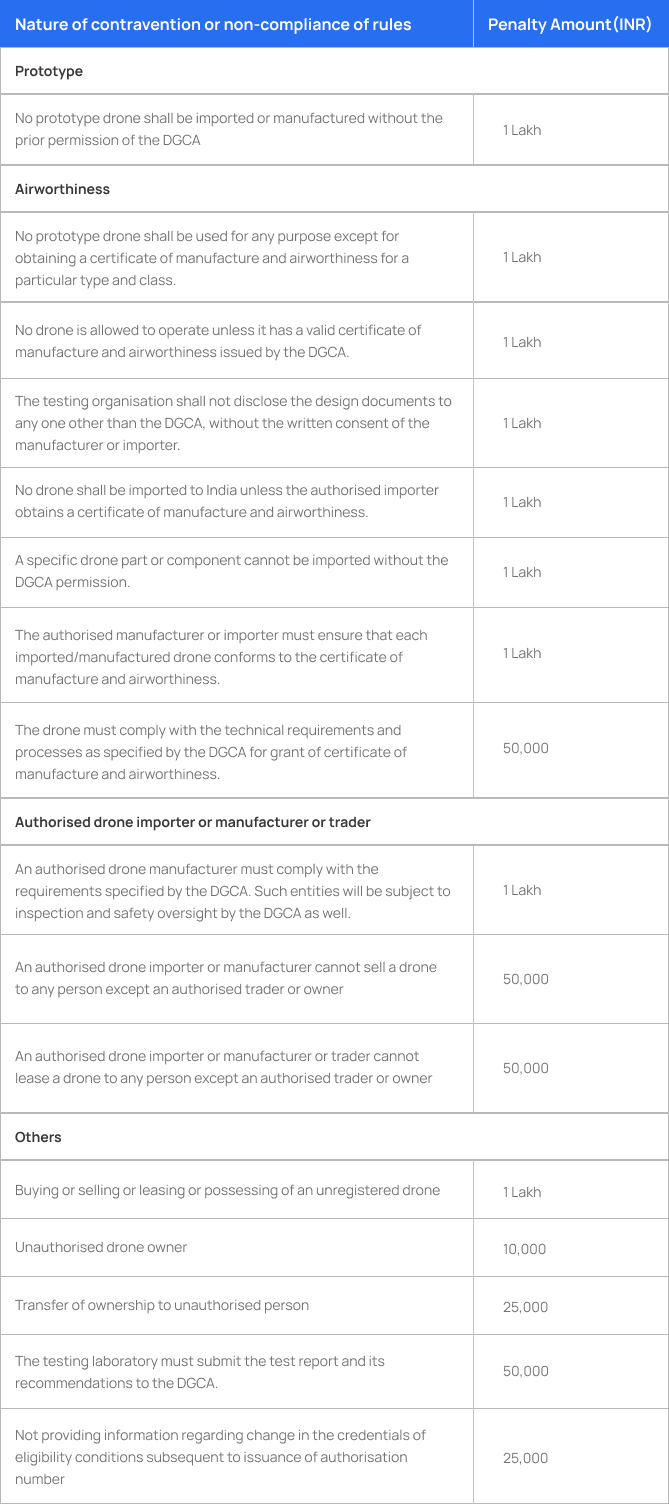 Uncrewed Aircraft System Operator Permits
In India, no one can operate a drone (except a Nano drone) without a permit issued by the DGCA. It will issue two types of uncrewed aircraft systems' operator permits - UAS Operator Permit-I (UAOP-I) and UAS Operator Permit-II (UAOP-II). While the former is for micro and small drones i.e., for those drones which fly within the line of sight (without any carriage of goods for delivery), the latter will be issued for beyond the line of sight drones.
Eligibility for UAOP-I:
Operations shall be limited to micro or small category drones.
Operations shall be conducted in accordance with the provisions of the Standard Operating Procedure prepared by the authorised UAS operator and accepted by the DGCA.
Only a remote pilot licence holder must operate the drone.
The drone operation must be limited to visual line of sight.
The drone should not carry any dangerous items. Incidentally, carriage of goods for any delivery is not allowed.
Eligibility for UAOP - II:
The drone operations must be conducted in accordance with the Operations Manual prepared by the authorised operator and approved by the DGCA.
Carriage of goods is allowed as per the approved Operations Manual.
Only a remote pilot licence holder must operate the drone.
The drone operations should not be carried out without prior clearance from Air Traffic and Air Defence Control.
The drone operators must implement a Safety Management System (SMS) to ensure safe operation.
Carrying of dangerous goods is allowed, subject to compliance of The Aircraft (Carriage of Dangerous Goods) Rules, 2003.
The DGCA will only issue the permits once all the above requirements are fulfilled. Once the permits are granted, they remain valid for 10 years. Again, they can be renewed for a period of 10 years.
The Beginning Of A New Era
All in all, technological advancements have made drones an engineering marvel, capable of performing myriad tasks. Not only they can save lives but can also cut costs and enhance efficiency. They can do the most ordinary to the ultra-risky tasks. Companies and government organizations are increasingly testing various possibilities to integrate drones in various industries. However, the drone sector is nascent and with proper planning and regulations, it can have promising growth. Investment is required for further research and innovations and to optimize this sector. Drone regulators, manufacturers, and operators must work together to ensure that this emerging technology is used safely and responsibly.
Happy flying to you!
Disclaimer: Information provided here is as per the latest Uncrewed Aircraft System Rules, 2021, released on March 14, 2021.
---