Welcome to our comprehensive guide on becoming a survey drone pilot in India.
In this article, we will provide you with all the essential details you need to know about the costs involved in pursuing a career in this exciting and rapidly growing field.
The Rising Demand for Survey Drone Pilots
The use of survey drones has revolutionized various industries, including Construction, Land Survey, Agriculture, Mining, and Infrastructure Development. Survey drones offer unparalleled advantages, such as efficiency, accuracy, and cost-effectiveness.
"As per government projections, the annual sales turnover of the Drone Services Sector is projected to cross Rs. 30,000 crores in the next three years, This is expected to generate more than 5 lakh jobs in India"
As a result, the demand for skilled survey drone pilots is on the rise, and many individuals are keen on entering this lucrative profession.
Cost to become a Survey Drone Pilot
Training and Certification
To be legally compliant for flying drones in India, you need to acquire the DGCA Approved Remote Pilot Certification and undergo the survey training for drones. Several institutions and training centers across the country offer comprehensive courses designed to equip aspiring pilots with the necessary skills and knowledge.
DGCA Approved Drone Training Institute (RPTO) Map
Cost of Drone Training
The cost of training for a survey drone pilot in India can vary depending on factors like the institution's reputation, institution's location, course duration, level of expertise and Advanced and Specialized programs offered by the institute.
DGCA Approved Remote Pilot Certification, training course can cost between INR 40,000 to INR 70,000.
DGCA Approved Train the Trainer, training course can cost between INR 45,000 to INR 70,000.
Advanced and specialized programs, the cost between INR 70,000 to INR 1,50,000.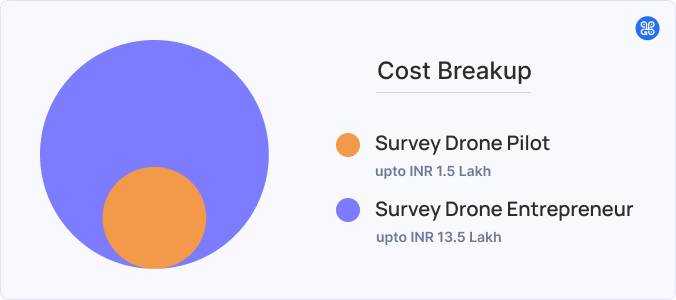 Cost to become a Survey Drone Entrepreneur
Cost of a DGCA Type Certified Drone
Drones come in various models and features, ranging from entry-level to professional-grade. The cost of a survey drone can vary significantly, with basic models starting at around INR 400,000 to INR 500,000.
However, the more advanced and sophisticated drones, which come with the capability of interchangeable payloads, allows the user to easily swap out different sensors and cameras to fit the specific needs of the surveying project. These advanced drones can come with a price range starting from INR 5,00,000 and going up to INR 10,00,000.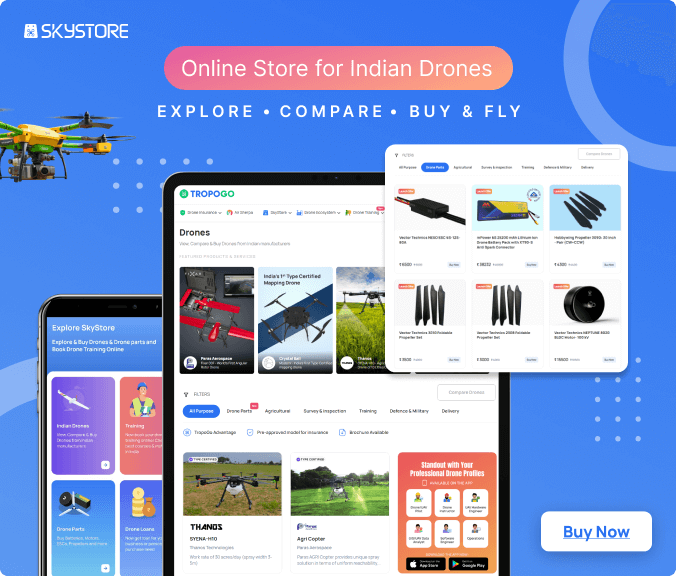 Explore & Compare the Indian Drones in one place
To Know more, Click on the link below :
https://tropogo.com/marketplace/skystore
Survey Equipment Costs
Acquiring the right equipment is a crucial step in your journey to become a survey drone pilot. Surveying drones are equipped with a variety of payloads such as,
A. High-Resolution Cameras :
These are cameras that capture high-quality images with a large number of pixels. They are used for photogrammetry, which is a method of creating 2D maps or 3D models from multiple overlapping images.
B. LiDAR sensors :
These are sensors that emit laser pulses and measure the time it takes for them to bounce back from the objects in the environment. They are used for creating accurate 3D point clouds of the terrain and detecting small objects.
C. Thermal Imaging Cameras :
These are cameras that capture infrared radiation emitted by heat sources and display them as visible images. They are used for detecting temperature differences, identifying hotspots, and inspecting thermal insulation.
Cost of the equipments for survey drone can vary depending on the type, quality, and specifications of the cameras and sensors. the cost of equipments may go up to INR 1,50,000 to 2,50,000.
Accessories & Consumables Costs
In addition to the drone, there are several other essential accessories and consumables you'll need, such as,
Accessories :
Landing Pad
Ground Control Points (GCPs)
Battery Charger dock unit
Memory Card Reader
Spare Batteries
Wind Meter
Propeller Guards
Camera Filters
Sunshade for Mobile Device
Collapsible Cones
Survey drone accessories can cost between INR 20,000 to INR 35,000.
Consumables :
Consumables are items that are used up or depleted during the operation of a device or a process. In survey drones, consumables can include:
Batteries :
These are the power sources for the drone and its sensors. They need to be replaced or recharged after a certain amount of flight time, The cost can vary depending on the type, capacity, and brand of the battery, and each battery can cost between INR 25,000 to INR 40,000.
Propellers :
Drone propellers can wear out or break due to collisions, abrasions, or fatigue. The cost can vary depending on the size, shape, and material of the propeller, and each propeller can cost between INR 2,000 to INR 5,000.
Memory cards:
Memory cards can run out of space or become corrupted due to physical damage or software errors. The cost can vary depending on the type, capacity, and speed of the memory card, and can cost between INR 3,000 to INR 5,000.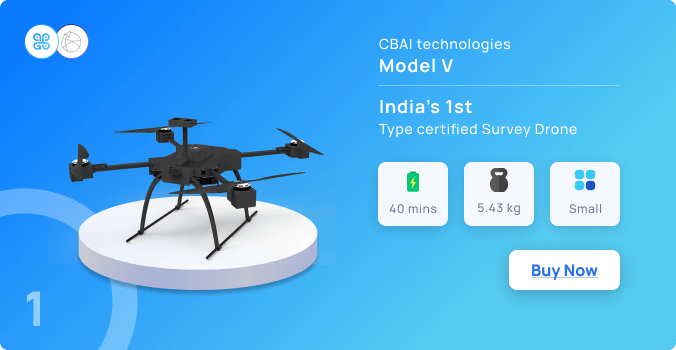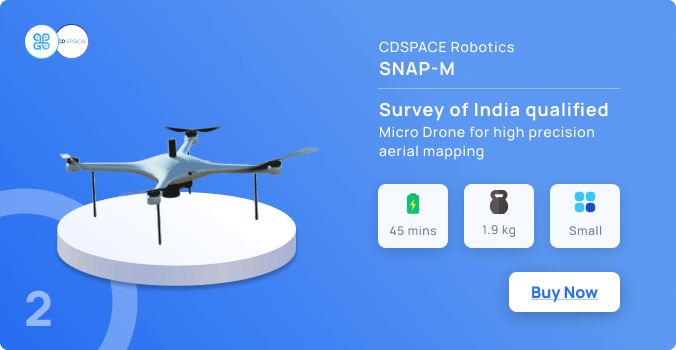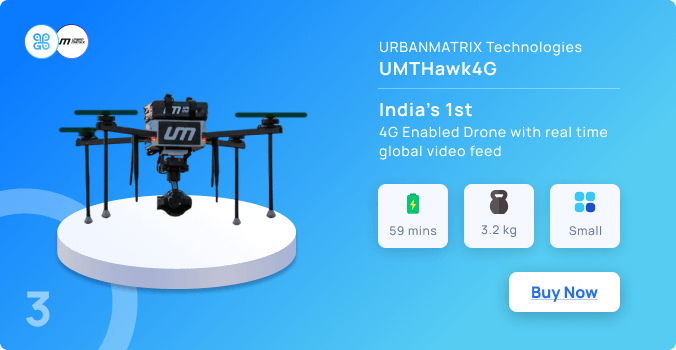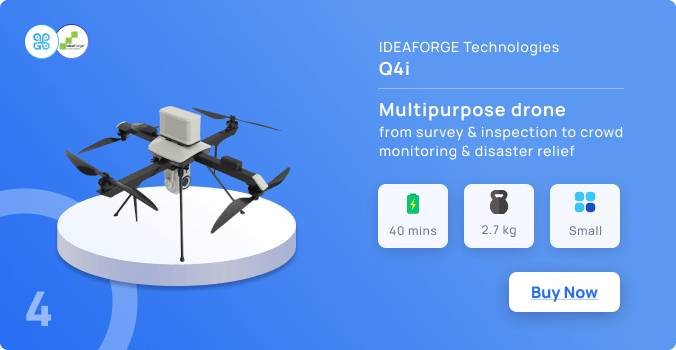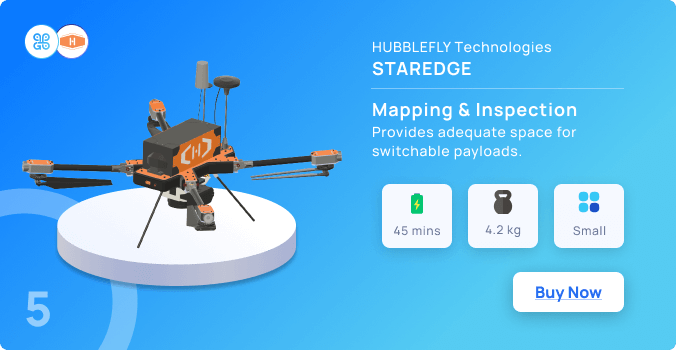 Insurance Costs
In India, it is illegal to fly drones without Third-Party Liability Insurance (Section 10: Drone Rules 2021, Ministry of Civil Aviation). Accidents or damages involving drones can lead to insurance claims or liability issues.
Considering the value of the drone and potential liabilities, it is wise to invest in Accidental & hull damage insurance coverage. In addition, there are several project specific insurance add-ons like Night Flying Cover, BVLOS and Payload Covers which are available on Tropogo. Insurance costs for survey drones in India can vary based on the coverage amount and the insurer.
On an average,
Third Party Liability Insurance for Drone starts from INR 5,000 per year.
Personal Accidental Insurance for the Drone Pilots starts from INR 500 to INR 2,000 per year.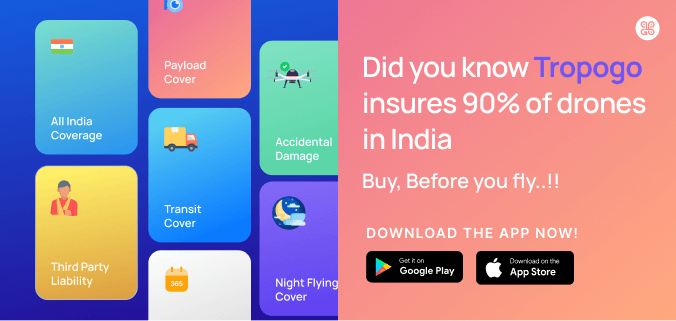 Tropogo is the exclusive platform where you can swiftly buy Drone Insurance online in just 5 minutes, To Know more, Click on the link below :
https://tropogo.com/insurance/drone
Operational Costs
Once you've completed your training and obtained the necessary equipments, there are ongoing operational costs to consider. These expenses include maintenance, repairs, and software updates.
Transit cost of Operator and Drone
In terms of operational costs, it's important to consider that the transit of both the drone and the operator from the storage center to the site can introduce an increased risk of accidents during this journey. To mitigate these potential risks, it is highly advisable to include Transit Insurance for the drone and secure Personal Accidental Insurance for the drone operator. These precautions contribute to a comprehensive operational approach that safeguards both equipment and personnel.
Maintenance and Repairs
Regular maintenance is essential to keep your drone in optimal condition. Maintenance costs can vary depending on the complexity of the drone and the services required. It is advisable to set aside INR 5,000 to INR 10,000 annually for maintenance and potential repairs.
Softwares
As technology evolves, drone manufacturers frequently release softwares and updates to enhance performance and add new features to their drones. Also, Drone Flight Planning Software , Data Processing, 3d Mapping & Lidar Imaging softwares are essential for accurate surveying results. Staying up-to-date with these softwares is crucial for efficient operation. Some softwares/ updates may be free, while others could cost around INR 5,000 to INR 25,000.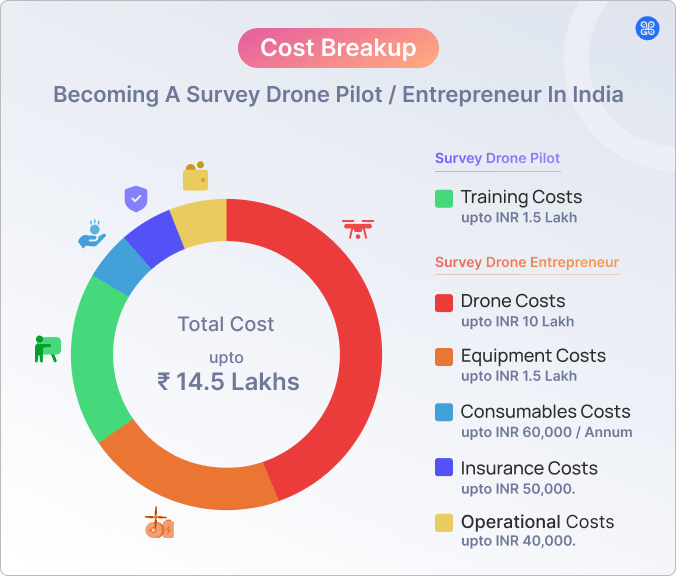 Conclusion
Becoming a survey drone pilot in India offers a promising and rewarding career path. While the initial investment may seem significant, the potential for growth and opportunities in this field is immense. By obtaining the right training, equipment, and certification, you can position yourself as a skilled professional in this booming industry.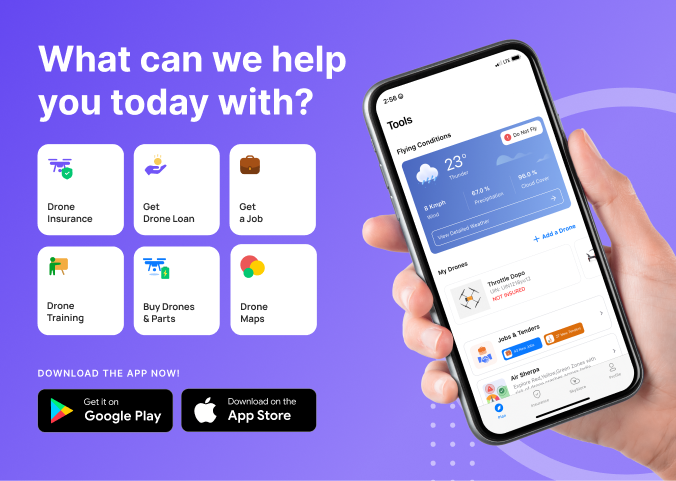 Download for Android : TropoGo-Drone Jobs & Tools - Apps on Google Play
Download for iOS : TropoGo-Drone Insurance & Jobs on the App Store (apple.com)